Hall Ambulance crew reunites with safe surrender baby
Paramedic Marian Anson and EMT Michelle Guidotti were VIP guests at Baby Oliver's adoption party
---
By Laura French
BAKERSFIELD, Calif. — A California ambulance crew reunited with a safe surrender baby when they were invited to be VIP guests at the baby's adoption party. 
Hall Ambulance Paramedic Marian Anson delivered the baby in an ambulance last year with assistance from EMT Michelle Guidotti.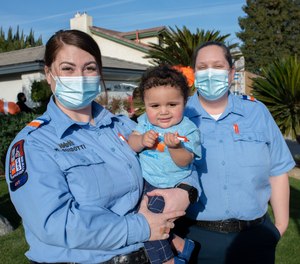 "While traveling down the road, I got to deliver my first baby. It was definitely a little nerve-wracking, but one of the most exciting days I've had at Hall Ambulance," Anson said in a statement. "It was amazing! Getting to hear him cry after was beautiful." 
After arriving at the hospital, the baby was given up through California's Safe Surrender Program. The program allows parents to safely and confidentially surrender custody of a newborn if they cannot care for them. The day after the baby was born, he was taken in by a foster family. 
Recently, the foster family finalized their adoption of the baby, named Oliver, and invited the Hall Ambulance crew to watch the live stream of his adoption ceremony. On March 5, Anson and Guidotti attended Oliver's adoption party as VIP guests at the family's home. 
"Marian and Michelle were his first friends in the world and knowing that he was cared for by them really bridges that gap from his life before meeting us, as short as that may be, to his life with us," Oliver's mother said in a statement. 
Anson and Guidotti arrived in an ambulance to the outdoor party with Siren the Rescue Dog, Hall Ambulance's mascot, who handed out Siren plush toys to kids. A handmade plush-toy version of the ambulance Oliver was delivered in, complete with the unit number, was given to him as a gift by Anson, and Guidotti gifted him a play activity table. In addition, Hall Ambulance President and CEO Lavonne C. Hall sent one of her handmade baby quilts constructed from swatches of her late husband Hall Ambulance Founder Harvey Hall's dress shirts.
"It was such an honor not only to be able to witness Oliver's birth first-hand but also to witness his adoption ceremony. Holding Oliver and seeing his smiling face will always be a moment in time that I will deeply cherish," Guidotti said in a statement. "Every call has the potential to have a bad ending, but I'm so grateful Oliver's new story is just the beginning." 
California's Safe Surrender law was passed in 2001, and since then, more than 700 babies have been safely surrendered. In the same period, abandonments have decreased to an average of less than five per year. The program requires the surrendering guardians to leave the baby at a safe location such as a hospital or fire station where they can receive appropriate medical care and protection. 
Read next: 7 things public safety officials need to know about Safe Haven laws