Swimmer impaled by catfish
A Brazil EMS provider shared photos of the fish's spines stuck into the woman's stomach
---
SAO PAULO — A woman in Brazil had surgery after a catfish embedded itself into her stomach.
An EMS provider posted photos on Facebook of the catfish lodged in the unidentified woman's stomach.
The woman was swimming in a Sao Paulo beach resort when a catfish stung her and locked its spines into her stomach, the Independent reported.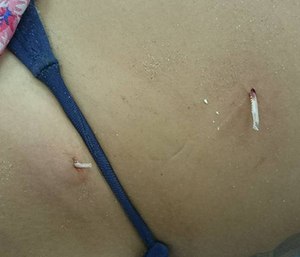 "We were alerted to an incident where an object had penetrated a swimmer's stomach and when we got there, discovered it was a fish," Marcel Araujo Tamada wrote. "She was in a lot of pain. We didn't remove the spin because only a doctor can do this. We took her to hospital so she could have microsurgery."
Tamada added, "Generally we deal with people who have stood on fish or have cut a finger touching one, but I've never seen a catfish stuck to someone's stomach. It was definitely a first."