AMR talks EMS coverage during Inauguration Day
AMR worked with D.C. Fire and EMS and the National Park Service to provide medical care to those attending inauguration festivities last week
---
American Medical Response
WASHINGTON —The National Park Service, D.C. Fire and EMS, American Medical Response and other local EMS agencies united to provide care and medical transportation services for those attending inauguration festivities last week.
"The weekend was a success," AMR Regional Director Erik Rohde said. "We were pleasantly surprised by how quiet the weekend was."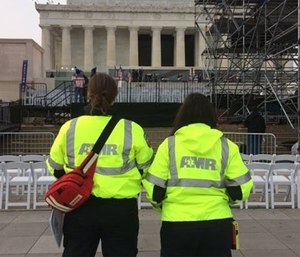 Rohde praised the efforts of all involved and said AMR was impressed with its District partners, NPS and DCFEMS during the historic event.
"We have very collaborative alliances, and it has been a pleasure serving our nation's capital alongside these remarkable agencies. We look forward to assisting them with many more events in the future," Rohde said. 
DCFEMS deployed 793 additional personnel and 111 extra fire and EMS units to accommodate the inaugural festivities. The organization and its partners had a total of 854 calls on Inauguration Day. Within the inaugural zone, they treated 138 people in medical tents and had 94 hospital transports.
In partnership with both organizations, AMR deployed a total of 275 EMTs and paramedics and 52 ambulances. AMR's D.C. operations also bolstered its numbers by bringing in crew members from 10 neighboring operations out of Virginia, Maryland, Massachusetts, Connecticut and Pennsylvania. Additionally, the day following President Trump's inauguration, AMR contributed 12 ambulances to support the Women's March on Washington.
"Our ability to pull resources from multiple locations and work with several entities to facilitate a safe and successful operation truly embodies our commitment to providing our nation quality care," Edward Van Horne, AMR president and Chief Executive Officer, said.
Inauguration coverage began for AMR Jan. 19 with the opening ceremony and celebratory concert at the Lincoln Memorial. On Inauguration Day, the crew expanded its coverage to the presidential viewing area, Lafayette Square and the parade route along Pennsylvania Ave. 
AMR utilized both ambulances and utility task vehicles, and while they saw some patients who were a part of the inauguration celebration, Rohde mentioned that they did not have any significant incidents. He added that they never experienced a shortage of available units. 
While also assisting DCFEMS with event coverage, AMR doubled its usual contingent of 911 system transportation services support for non-event related incidents throughout the metropolis. 
"Our successful inauguration coverage speaks volumes to the positive relationship we share with D.C. Fire and EMS," AMR operations manager Patrick Pickering said.