Fire dept. uses purple rig to focus on domestic violence
The fire truck isn't active, so people won't see it at the site of an emergency; it can bee seen in parades, community outings and school activities
---
Associated Press
ALTOONA, Pa. — A central Pennsylvania volunteer fire company is using a purple fire truck to raise awareness of domestic violence.
The Newburg Fire Company in Logan Township uses the truck in parades and other public events, but it's no longer used to fight fires. Although many people know October is a month when pink objects call attention to breast cancer, it's also the month designated to raise awareness of domestic violence.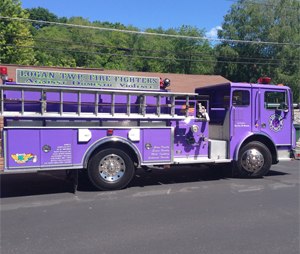 Tory Schwarze, a Newburg EMT, tells WJAC-TV that other fire departments in the country have purple trucks, but officials believe the Newburg vehicle is the only one painted that color for domestic violence.
The neighboring Altoona fire department donated the truck to the volunteer company in 2012.
The fire truck even has its own Facebook page.