FDNY ambulance taken out of service for bedbugs
An FDNY spokesman said the ambulance was taken out of service on Monday and "sealed in accordance to department procedure."
---
Stephen Rex Brown
New York Daily News
NEW YORK — New York's lifesavers are no match for New York's scariest insect.
"Do not open!" said a sign attached to a stationary EMS ambulance in Williamsburg, Brooklyn.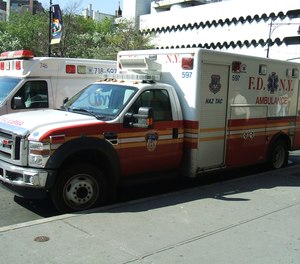 "Bedbugs!" read a second warning note. Underneath, tape had been used to draw a sad face on the doors of the FDNY rig.
An FDNY spokesman said the ambulance was taken out of service on Monday and "sealed in accordance to department procedure." It was treated by exterminators Thursday. The crew is fine, the spokesman added.
The FDNY did not provide any theories about how bedbugs infested the ambulance.
John McKinney spotted the contaminated wagon at Metropolitan Ave. and Roebling St. around noon. The East Williamsburg resident got an itch to take a photo, which he passed along to the Daily News.
"First pizza rats, now ambulance bedbugs — what's next, toilet crocs?" McKinney joked. "This city is buggin' out."
———
©2019 New York Daily News
McClatchy-Tribune News Service