First hydrogen-fueled ambulance unveiled at COP26
The ZERRO uses a hydrogen fuel cell in the powertrain and has a 300-mile range
---
By Leila Merrill
GLASGOW, U.K. — COP26 attendees had the chance to check out a working prototype of the world's first hydrogen-fueled ambulance, Electronics Weekly reported.
ULEMCo and its partners created an ambulance that uses a hydrogen fuel cell in the powertrain and has a 300-mile range, according to a news release from the company. The ambulance includes a hydrogen fuel cell range extender with an electric drive, a low frame chassis and a bespoke lightweight body. The rig also includes a low access floor and "fast and flexible refueling."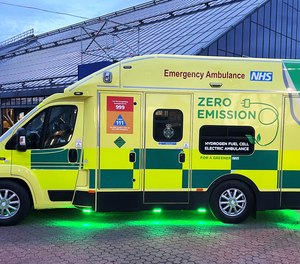 The Zero Emission Rapid Response Operations project was started by the Yorkshire Ambulance Service. ULEMCo and its partners announced in February plans to design such an ambulance for the UK's NHS Trust, New Atlas reported. The NHS has pledged to become the world's first health service to commit to reaching net zero carbon emissions.
The project led by ULEMCo with partners including Mellor, Promech Technologies, Lyra Electronics and VCS is supported by Innovate UK and NHS England & NHS Improvement.
The COP26, the 26th annual Conference of the Parties, has been attended by countries that signed the United Nations climate change treaty of 1994.