Competing Ala. ambulance services dramatically drive down rolled calls
"December looked better than October and November and that's a good sign as we try to balance the system," city EMT Coordinator Chris Phillips said
---
Bayne Hughes
The Decatur Daily, Ala.
DECATUR, Ala. — Decatur's competing ambulance services had only a single rolled call in December, which city Emergency Medical Technician Coordinator Chris Phillips said was a big improvement over the previous six months when there were several hundred.
However, the services sent non-emergency ambulances on emergency calls 12 times in December, and Phillips told the Ambulance Regulatory Board last week that each instance was equal to a rolled call — which is when an ambulance isn't available for a call.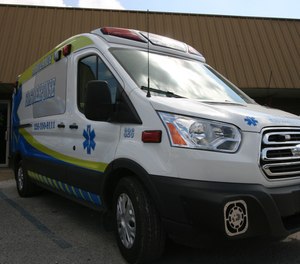 "December looked better than October and November and that's a good sign as we try to balance the system," said Phillips, who works with Decatur Fire and Rescue.
Ambulance service in the city remains in flux with the adjustment to having competing services. First Response Ambulance Service had a monopoly on the city for seven years until Decatur-Morgan Hospital started an ambulance service in August.
First Response and owner David Childers filed a federal lawsuit in December accusing the city and Huntsville Hospital of conspiring to cripple its business and create "conditions which might trigger the city's entitlement to revoke First Response's (certificate of public necessity and convenience)." Decatur-Morgan Hospital is part of the Huntsville Hospital system.
First Response's failure to meet required response times and delayed transports were cited by Decatur-Morgan Hospital last year as reasons it started an ambulance service.
The city approved a new ambulance ordinance in 2019, when First Response was the only provider, to spur better response times. The since-revised ordinance requires ambulance services to respond to the scene of a call within nine minutes in the city and 13 minutes in the police jurisdiction on 90% of its calls. A late service can receive points that lead to possible fines for failure to meet the city's requirements.
"The ambulance services are probably doing better," said Fire Chief Tracy Thornton, who is the ARB chairman. "Improvement is what we're looking for, and the important thing is they get the response times under nine minutes (in the city) and 13 minutes (in the PJ)."
The ARB last month approved new rules that will keep a combined four to six ambulances available for emergencies so the city has adequate coverage at all times. However, those rules didn't take effect until Friday.
"We said in December we will watch the numbers in the next few months and make adjustments," Thornton said.
Phillips said the two ambulance services had a combined 112 rolled calls in October and only four in November. He reported at the December ARB meeting that there were 310 rolled calls in the city during the third quarter of 2021, most of which were attributed to First Response as the city's only licensed service in two of the three months in the quarter that ended Sept. 30.
First Response owner David Childers, who was not at the ARB meeting last Tuesday, disputed Phillips' numbers Wednesday. He also said the city hasn't provided "a clear definition" of what a rolled call is.
Childers said there have been several cases in which Morgan County 911 called First Response and his company said it was sending a non-emergency ambulance to an emergency call, only to have "the Fire Department come over the radio and say, 'Send the hospital.' That's not a rolled call, that's a preference."
The state allows non-emergency vehicles to run emergency calls, Childers said.
"They paint a grim picture of rolled calls that's so inaccurate," Childers said.
Phillips said the two ambulance service combined in December to respond within the required time on 87% of the 307 calls in the city and 73% of 19 in the police jurisdiction, a 1 1/2 -mile area outside the city limits.
The hospital ran 876, 57.5%, of the 1,523 city's calls in the fourth quarter with First Response handling 647 calls, Phillips reported.
Hospital Ambulance Service Director Tylor Stinson reported that, the fourth quarter, the new service had an 85% response time in the city and a 78% response time in police jurisdiction.
While he knows the hospital isn't making its required times, Stinson said that during the quarter the service improved from 80% in October to 85% in November to 88% in December.
"These are numbers of a start-up business, and we're on the right track," Stinson said. "I think we'll be OK when we get our employee numbers set, and that should be soon."
Childers said Wednesday that First Response met its response times in the fourth quarter, but he did not have the statistics available.
Thornton said he thinks First Response didn't make its required response times, but he also didn't have data available.
___
(c)2022 The Decatur Daily (Decatur, Ala.)
McClatchy-Tribune News Service