Okla. FD ambulance struck in hit-and-run
The fire department and police are seeking information on the driver who hit the front of the ambulance and fled the scene
---
By Laura French
SEMINOLE, Okla. — An Oklahoma fire department ambulance was struck in a hit-and-run early Sunday morning, and authorities are now searching for the driver responsible. 
The Seminole Fire Department ambulance was responding to an emergency when the other vehicle ran a stop sign and hit the front of the rig, according to a Facebook post by the department. The vehicle then left the scene.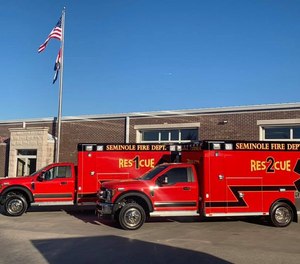 The ambulance received minor damage and no personnel were injured, officials said. The other vehicle is described as black and possibly missing its rear bumper. 
The department asked that anyone with information about the incident contact the Seminole Police Department.