Motorcyclist dies after collision with Ill. ambulance
The crew had been transporting a patient in Waukegan and rendered aid while other EMS providers were en route
---
By Leila Merrill
WAUKEGAN, Ill. — A motorcyclist died after colliding with an ambulance Monday afternoon, NBC Chicago reported.
The ambulance crew was transporting a patient when the crash at the intersection of Lake Street and South Genesee Street occurred.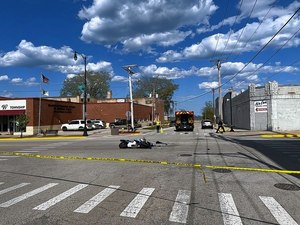 A paramedic rendered aid to the motorcyclist, and more EMS crews were dispatched.
The motorcyclist was transported and pronounced dead at a hospital.
The patient who was being transported was stabilized at the scene and then taken to a hospital, authorities said.
The incident is under investigation.