Ga. patient dies after ambulance, log truck collision
Authorities determined that the EMS provider who was driving the Gold Cross ambulance was responsible
---
Billy Hobbs
The Union-Recorder
EATONTON, Ga. — A 79-year-old woman en route by ambulance to the hospital in Eatonton Monday afternoon reportedly died from injuries she sustained when the ambulance was involved in a collision with a log truck.
Authorities have determined that the EMS provider who was driving the ambulance was at fault.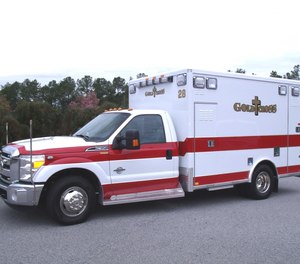 The wreck occurred at 3 p.m. at the intersection of Ga. Route 44 and Ga. Route 16.
The victim was identified as Betty Gentry, of the 100 block of Grove Street, Eatonton, according to an incident report filed by Eatonton Police Department Sgt. Harold Bowman.
The injured woman was treated at the scene by first responders with Eatonton Fire Rescue and personnel from Putnam County Emergency Medical Services. She was later taken to the emergency department of Putnam General Hospital where she reportedly died.
None of the three other people, including ambulance personnel or the log truck driver, were injured.
The investigation, conducted by Bowman, revealed that an ambulance, owned by Gold Cross, was struck by a truck loaded with logs.
Bowman said he talked with the driver of the ambulance, Malik Rashad Germany, 22, of Hephzibah.
The police officer said Germany told him he missed the entrance to Putnam General Hospital and was attempting to turn around when the ambulance was hit in the side by the log truck.
After the collision, Germany told the investigating police officer that he checked on Gentry, who had been secured in the patient area of the ambulance. Germany said he removed the victim from the ambulance and began performing CPR on her.
"Mr. Germany was found to be at fault in the accident," Bowman said.
Germany was charged with vehicular homicide in the second degree and failure to yield. The charges are misdemeanors.
Germany later went to Eatonton Police Department headquarters where he turned himself in. He was booked and fingerprinted, then taken by police to the Putnam County Sheriff's Office where he was photographed and turned over to jail personnel.
Germany has since been released on bail.
Germany's partner in the ambulance was identified as Wellington Braxton Winfrey, of Augusta.
The log truck driver was identified as Thomas Shaun Williams of Hillsboro. He was driving for Plains Logging Company, which is located in the Greene County town of White Plains.
___
(c)2022 The Union-Recorder
McClatchy-Tribune News Service