Ambulance crashes into Miss. home, scaring family
An ASAP Ambulance shift manager said that the EMS provider who was driving must have blacked out or fallen asleep
---
By Leila Merrill
SIMPSON COUNTY, Miss. — An ASAP Ambulance crashed into a family's house at around 2:30 a.m. Saturday, WLBT reported.  
The family woke up to see the ambulance in their living room and the home's foundation completely shifted.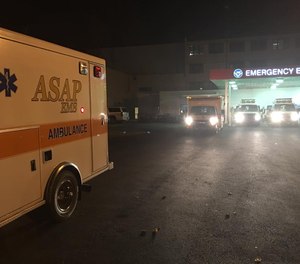 "I don't know what to do. I don't know what to think. It scared me so bad, you know?" homeowner John Ates said.
He said that three EMS providers were in the rig. His family was scared but not physically hurt.
A shift manager for ASAP Ambulance told the TV station that the driver must have fallen asleep or blacked out.
Ates said that ASAP Ambulance paid for a three-day hotel stay for his family but that they had not been in touch aside from that.