Upgraded air ambulance coming to Ore. airport
The new Life Flight Network helicopter stationed at Astoria Regional Airport will allow for onboard plasma transfusions, among other upgrades
---
Edward Stratton
The Daily Astorian, Ore.
CLATSOP COUNTY, Ore. — Life Flight Network will station a new helicopter at the Astoria Regional Airport as part of a regional upgrade in speed and medical capabilities.
The new Bell 429 helicopter, among four the nonprofit medevac service bought for $34 million, is expected to arrive in spring. Ben Clayton, the chief operating officer for Life Flight, said they provide better patient access and ability to navigate using flight instruments when visibility is low.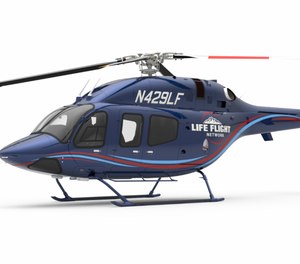 Life Flight's helicopters are equipped to operate like mobile intensive care units with a nurse, a paramedic, ventilators, laryngoscopes and the ability to transfuse red blood cells. The new upgrades include the ability to do onboard plasma transfusions to help slow and replace blood loss in trauma patients.
Life Flight's recent investment also includes a flight simulator based in Aurora. Clayton said the simulator will save crews from traveling to Dallas, Texas, and Denver for similar training.
Life Flight established a base at the Astoria Regional Airport in 2015, adding the ability to transport patients from the coast to Portland in less than 30 minutes in its blue Augusta 109 helicopter. Last year, Life Flight completed a new hangar next to JBT Lektro, an electric airplane tug manufacturer.
During the coronavirus pandemic, Life Flight has transported 800 patients with coronavirus, Haley Dowell, a spokeswoman for the nonprofit, said in an email.
"Of note, we transported 21 suspected COVID patients from Clatsop County, of which two ended up being positive," she said.
___
(c)2021 The Daily Astorian, Ore.
McClatchy-Tribune News Service