Student with 'traumatic injuries' airlifted from high school, Miami-Dade Fire Rescue says
A helicopter landed on the school's football field to transport a student after a possible fall
---
Suicide is always preventable. If you are having thoughts of suicide or feeling suicidal, please call the National Suicide Prevention Hotline immediately at 988. Counselors are also available to chat at www.suicidepreventionlifeline.org. Remember: You deserve to be supported, and it is never too late to seek help. Speak with someone today.
Michelle Marchante, Clara-Sophia Daly
Miami Herald
PINECREST, Fla. — A student with "traumatic injuries" was airlifted from Palmetto Senior High Tuesday morning, fire rescue said.
Miami-Dade Fire Rescue said it received a call around 8 a.m. relating to a possible fall at the high school, 7431 Southwest 120th St. in Pinecrest.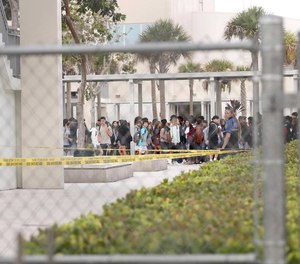 The student was airlifted to the hospital, Fire Rescue said. Fire Rescue did not identify the student.
A student in a classroom contacted the Herald and said the student was standing near a railing at the top of the stairs on the third floor of the building before the incident. Shortly thereafter, a helicopter landed on the school's football field and the school was placed under code yellow, meaning students cannot leave their classrooms, the student said.
The Herald is not naming the students we spoke to given the sensitivity of the situation.
Edwin Lopez, the chief of Miami-Dade Schools Police, tweeted around 9:30 a.m. about the incident: "Earlier today, @palmettoSHS was briefly placed on lockdown due to a medical emergency involving an injured student. The student has been transported to the hospital for further evaluation."
As the morning passed, police officers stood outside the school entrance while parents comforted each other. Some students left the school as they had called their parents to pick them up and sign them out.
"Everyone is really shocked and disturbed," said the student who was in the classroom.
A father who lives nearby had noticed the commotion and came by to see what was going on: "These days, you get nervous with schools. Nowadays, schools are not a real safe place."
Shortly later, a mom who was picking up her daughter at the school leaned over and asked, "Are you OK, honey?"
A student who arrived late to school heard the news from his football coach. "I don't know, it's sad," he said, noting that he recently had moved from a school in Texas where a situation like this happened.
A police officer remarked to another: "It's the world we live in, right?"
The first day of school was last Wednesday for Miami-Dade Schools. During the pandemic, many students have struggled with mental health issues related to remote learning and isolation.
A freshman at the school said she didn't expect her first week of high school to start like this. While she was in the cafeteria, where students who were not in a classroom went to, news started going around about what had happened.
Eventually, however, the school period ended and students returned to their classrooms. The freshman was upset that school officials chose to send students back to class.
"It shouldn't have continued, at least today," she said, noting that teachers and students knew what happened but were not publicly acknowledging it.
District officials said they deployed crisis counselors to the school to assist anyone in need.
Miami-Dade Schools Superintendent Jose Dotres talked about how the new school year was a time for students and teachers to "reconnect and connect with each other. That's what we're going to focus on."
No other information was immediately available.
---
©2022 Miami Herald. Visit miamiherald.com. Distributed by Tribune Content Agency, LLC.
McClatchy-Tribune News Service