Video: Thunderbirds, Blue Angels fly over NYC, NJ, Philadelphia in salute to COVID-19 responders
The Air Force and Navy flight demonstration teams performed two flyovers honoring front-line personnel in areas hard-hit by the pandemic
---
By Laura French
NEW YORK — The U.S. Air Force Thunderbirds and Navy Blue Angels flew over cities in the East Coast region on Tuesday as a tribute to front-line personnel in some of the areas hardest-hit by the COVID-19 pandemic. 
The flight demonstration teams first flew in a path over Newark and New York City, then over Trenton and Philadelphia, with each flyover lasting about 40 minutes.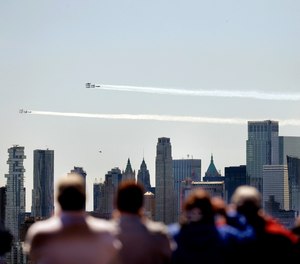 "We salute and thank all healthcare workers, first responders and other essential personnel on the front lines of the fight against COVID-19. We are in this together!" a flyer for the demonstration read. 
The flyovers are part of a collaboration between the Navy and Air Force to recognize healthcare workers, first responders and other essential personnel during the pandemic, according to a Department of Defense press release. The campaign, called America Strong, will include both joint and individual team flights every one to two days in cities across the United States until mid-May. 
"We're excited to fly over cities across America as our way of saying thanks to the healthcare workers, first responders, and all the people who selflessly run into the breach working to keep American strong," Air Force Chief of Staff Gen. Dave Goldfein and Naval Operations Chief Adm. Michael Gilday said in a joint statement. "This is also our way of showing that we are all in this together and that America's spirit will prevail."