NJ EMS chief thanks EMS providers for saving his life
Jeff Hoffman credits his fellow EMS providers from another agency with saving his life after he went into cardiac arrest three times in one night
---
By EMS1 Staff
FREEHOLD, N.J. — A volunteer EMS chief is crediting his colleagues with saving his life after he went into cardiac arrest three times in one night.
AH Herald reported that Freehold EMS Squad Chief Jeff Hoffman was working at his job as a parts advisor at a car dealership when he went into cardiac arrest.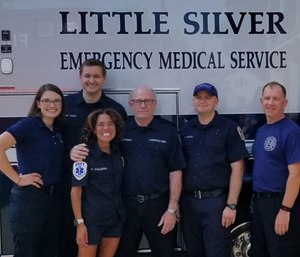 "I was changing a battery in a customer's key fob and I just collapsed," Hoffman said. "I don't remember anything about it. I woke up in the hospital three days later, intubated."
Hoffman went into cardiac arrest three times that night, and his coworker immediately called 911 and performed CPR with the help of a dispatcher. An AED from a police officer's car was also used shortly after.
Around a dozen EMS providers responded to the call, including Little Silver EMS Chief Tom Smith, who said he recognized Hoffman immediately upon arrival.
"Early CPR, early defibrillation," Smith said. "Jeff was in the right place at the right time, with people who knew what they were doing."
Hoffman said he was glad he was working late that night, as his wife was out of town on a work trip and the only one home would have been his dog.
"Any other night, I would be dead," he said. "I would have died at home, alone."