Tucson fire chief: Attack on first responders 'a lot to unpack'
"We train for responding to an active shooter event, not being part of one," the fire chief said
---
By Caitlin Schmidt
The Arizona Daily Star, Tucson
TUCSON, Ariz. — While the community struggled to come to terms with the fallout from Sunday afternoon's attack in a south-side neighborhood and against first responders, Tucson firefighters were already focused on their directive for the day: Take care of one another.
Tucson Fire Chief Chuck Ryan knew that with one of his own having been shot, and two EMTs from another agency in critical condition after an ambush-style attack, he needed to reach out to his people right away.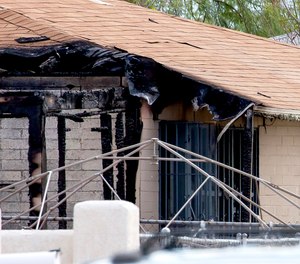 While most members of the department were already aware, Ryan wanted to make sure everyone heard the news directly from him: That crews responding to a house fire in the Vistas neighborhood were met by a gunman who opened fire. A captain was struck in the arm by a bullet and the rest of the crew members sought shelter as best they could.
By the time Ryan sent out his message Sunday night, the captain — who TFD would not name — was already recovering at home after being treated at the hospital, but Ryan did not diminish the severity of the captain's injury.
"A gunshot wound is a gunshot wound," Ryan told the Star. "You can call it superficial, but getting shot is getting shot."
Ryan also shared the news with his employees of the body that crews discovered in the burned-out house, when it was finally safe for them to enter; the 20- and 21-year-old American Medical Response EMTs who were in the hospital in critical condition after being shot by the same gunman; and the community member who was killed in the incident while trying to help.
"There's no more empty and helpless feeling than when you're listening to your crews in peril and not being able to do anything about it," Ryan said in a Monday news conference. "It's difficult to not be intensely angry about what occurred."
While firefighters are used to dealing with trauma on an everyday basis, Sunday's events were "a lot to unpack," Ryan said.
[Resource: Tactical withdrawal: When firefighters must evacuate dangerous scenes]
"I let them know our people were safe and our captain was expected to make a full recovery," Ryan said. "And I told them to be sure to take care of each other."
While attacks against first responders aren't new, they are new to Tucson, Ryan said, adding that he's already been contacted by fire chiefs from around the United States and Canada.
"Some have had very similar incidents and some with very tragic outcomes," Ryan said, adding that his "heart goes out" to the AMR employees and their families. "They weren't even part of this incident. They were victims of circumstance, at the wrong place at the wrong time."
Ryan said he made it very clear to all TFD employees that the department's robust peer-support program is there for anyone who feels the need.
With support from University of Arizona researcher Patricia Haynes, employees have additional options beyond peer support, and Ryan said Tucson Police Chief Chris Magnus has offered the services of TPD's behavioral health unit for any TFD employees.
"We're not mandating that people seek counseling or that sort of thing, as that's sort of the old way of approaching events, but we are emphasizing the availability of resources," Ryan said.
Sunday's incident will be reviewed under a process called sentinel event review, in which critical incidents are examined under a microscope to see what can be learned to prevent a recurrence. Ryan said the review will be multi-agency, as it touches on all three of the city's public safety departments.
This type of review is standard for major situations, but Ryan said that after listening to the radio traffic multiple times, talking to members at the scene and visiting the scene itself, he "can't pinpoint anything we should have or could have done differently."
Basic EMT training with TFD includes the message that scene safety is the most important thing, with Ryan saying that firefighters and medics can't take care of anyone until the scene is secure.
They're also taught self-preservation, and that if something looks wrong or feels wrong, to remove oneself from the situation until backup arrives, Ryan said.
"That's kind of the default mode that this crew went to," Ryan said. "We train for responding to an active-shooter event. But responding to, not being part of one."
Ryan said the department will wait until the review is complete to implement any changes in training or protocol, as he doesn't want to do anything just to do it.
Tucson Department responds to more than 90,000 calls for service every year, and Ryan said they'll continue to do that 24/7, 365 days a year.
"We know that the overwhelming majority of the community supports us and our mission," Ryan said, expressing his gratitude to neighbors of Sunday night's house fire who took firefighters into their home to seek shelter. "We're going to continue to be there."
(c)2021 The Arizona Daily Star (Tucson, Ariz.)
[Read next: Crisis leadership at mass violence incidents]
McClatchy-Tribune News Service