Pinnacle EMS Quick Take: Active shooter incident lessons learned for leaders
NFPA 3000 is a framework for preparing EMS agencies, fire departments, other responders and communities for active shooter incident response and recovery
---
PHOENIX — EMS leaders from Parkland, Fla.; Boston, Ma.; and Las Vegas shared their most important lessons learned in the context of NFPA 3000 with the leaders attending the Pinnacle EMS leadership conference. NFPA 3000 is the first active shooter/hostile event standard to provide a framework for a unified response from fire, EMS and law enforcement.
An EMS leader's actions before, during and after the incident are critical to protecting the public, patients and providers. Active shooter incidents have occurred in houses of worship, schools, businesses and where communities gather. When and where an active shooter strikes may not be predictable, but the preparation needed to effectively respond certainly is.
Chief Frank Babinec, Coral Springs-Parkland (Fla.) Fire Department; and Glen Simpson, special events manager, Community Ambulance in Las Vegas, shared critical success and failure points during the immediate response to the Parkland shooting and the Las Vegas shooting, respectively.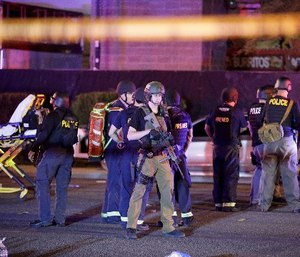 Memorable quotes on preparation, response and recovery
The three-person panel described the incidents in their community, how they were involved and what they learned. Here are two memorable quotes:
"We taught our police officers to use tourniquets and chest seals in 2015. On February 14, they used that training to save lives." — Chief Frank Babinec
"In Las Vegas, we know we are a target. It wasn't a matter of 'if' but 'when.' We have a lot of contingencies in place if something should happen." — Glen Simpson
Top takeaways on NFPA 3000
The panelists discussed dispatch and communications, scene management, victim transport and hospital readiness, as well as their ongoing experiences with post-incident actions, from media relations to caregiver support. Here are four top takeaways from the presentation on implementing NFPA 3000.
1. NFPA 3000 has three primary parts
Jamie Pianka, chief operating officer of Pro EMS in Cambridge, Ma., and an NFPA 3000 Technical Committee member, introduced the standard and the other speakers. Success to active shooter response will be based on three parts:
Planning (before).
Response (during).
Recovery (after).
"Like a three-legged stool, the collapse of any one leg will collapse the stool," Pianka said.
The NFPA 3000 technical committee members and subject matter experts represented the full breadth of public safety response organizations. The standard was developed to be inclusive of all organizations who will be impacted by an active shooter incident.
2. Risk assessment (planning before an incident)
Risk assessment needs to be ongoing for fixed locations, like schools and churches, as well as specific to one-time or annual events like festivals or marathons. The speakers stressed the importance of conducting risk assessments with other response partners and involved groups. A risk assessment, at a minimum, should:
Identify threats.
Analyze consequences.
Babinec stressed the importance of learning what other organizations have already planned (independent of response partners) for an active shooter incident and put in place through policies and trainings. He reported that the school safety committee had an emergency action plan for an active shooter incident that the fire department didn't have knowledge of.
3. Unified command must be used (response during an incident)
Law enforcement, schools and city officials need to learn what unified command is and be prepared to work within unified command using the same terminology and concepts. Babinec and Pianka emphasized the importance of face-to-face unified command for a successful response.
Another important response lesson learned was to dispatch personnel to the hospitals to assist with triage and to report back to unified command about what was known or being learned at the hospital.
Babinec sent EMS chiefs from neighboring agencies to the receiving hospitals to be his "eyes and ears" at those facilities. Simpson is implementing the dispatch of fire department personnel to the hospital to assist with the triage and lifesaving care of the large numbers of patients who arrive at the hospital by modes other than an ambulance.
4. Plan for aftercare and reunification (recovery from an incident)
Reunification of uninjured victims with family, friends, classmates and coworkers is an initial step in the recovery process. NFPA 3000 includes information on reunification, as well as the cascading events like memorial services, presidential visits and national media that might occur after the patients are evacuated from the scene.
Babinec described how in Parkland, they stood up a mental health response using a unified command approach for all of the organizations involved. He also discussed an ongoing effort that began before the Parkland shooting to train mental health clinicians in the demands and stresses of fire and EMS. Those clinicians learned about the call types, the gear and equipment used, and what the day-to-day job is like for firefighters and paramedics in their departments. This pre-planning effort led to mental healthcare beginning before some responders left the incident and continuing in the stations as responders returned to quarters, as well as ongoing availability from clinicians who already understood the people and the job.
Learn more about NFPA 3000 and active shooter incident response
Babinec and Simpson briefly overviewed the EMS response to the incidents in their jurisdiction. Simpson also shared this video, EMS Stories: Community Ambulance – Las Vegas, Nev., which features responders explaining to the public why they choose to be caregivers.
Read more about the Parkland shooting, the Las Vegas shooting, and preparation and response to active shooter incidents in these EMS1 articles: