New details emerge on delayed response in Parkland high school shooting
"Had we known the shooter wasn't there, we probably could have flooded that building a lot faster," SWAT member George Schmidt said
---
By Megan O'Matz and Rafael Olmeda
Sun Sentinel 
PARKLAND, Fla. — Fresh details emerged about another of the key blunders in the response to the Parkland massacre — miscommunication about video footage that led police to think the shooter was still in the three-story building when he wasn't.
The mistake meant that officers proceeded with more extreme caution and most paramedics, for their own safety, were not permitted to enter the school.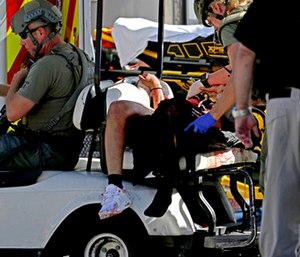 "Had we known the shooter wasn't there, we probably could have flooded that building a lot faster knowing that we're just going to go in there and just start trying to recover victims and wounded people," George Schmidt, a member of Coral Springs Police Department's SWAT operations team, told investigators, according to transcripts of interviews with the Florida Department of Law Enforcement.
Prosecutors in Broward also revealed additional testimony that touched on the delayed video footage and how it affected the rescue efforts at Marjory Stoneman Douglas High School, where 17 people died on Valentine's Day. A former student, Nikolas Cruz, entered the 1200 Building on campus and strode through the hallways, shooting into classrooms with an AR-15 assault-style rifle. He's in jail, awaiting trial.
The video delay was first reported by the South Florida Sun Sentinel a week after the shooting, but it was not clear how the misunderstanding occurred in the desperate, chaotic scene, made worse by radio communication failures. The newly released records reveal that school officials were the ones who rewound the video and that critical act was not clearly articulated, leading police to believe they were getting live information on the gunman's whereabouts.
Hearing a fire alarm, Jeff Morford, assistant principal, raced outside his office to help with an evacuation and encountered a sheriff's deputy, Scot Peterson, in a breezeway. The deputy, who is assigned to the school, yelled: "Code Red," meaning a lockdown and possible active shooter, and told Moford to get back to the school's camera room to pull up the security video.
By the time Morford arrived, school Security Specialist Kelvin Greenleaf was already there, but the pair didn't see any trouble on the live feed video. So they rewound it. "We ran the — it back so we could see what was going on," Morford told investigators.
"Mr. Greenleaf was running the camera. I was sitting beside him as we were watching," Morford said. "Then I got on my my radio and was telling Deputy Peterson what … I saw."
Peterson was standing outside the 1200 Building and heard the gunfire but never ran in to accost the attacker. He's been vilified for his cowardice and is being sued for negligence by parents.
Morford said he could not remember whether he told Peterson that the video was rewound.
Copyright 2018 Sun Sentinel 
McClatchy-Tribune News Service