Woman texts 911 to report kidnapping while held at gunpoint
The woman was able to text a vehicle description and a location while traveling along a highway
---
LAPORTE COUNTY, Ind. — A woman escaped injured after police said she texted 911 while her kidnapper held her at gunpoint.
WSBT.com reported that the LaPorte County dispatch center received the text around 9 a.m. from a woman reporting she had been kidnapped and was being held against her will at gunpoint. She was able to text a vehicle description and a location while traveling along a highway.
Police located and stopped the SUV near an intersection. The woman was safely removed from the vehicle and the suspect was taken into custody.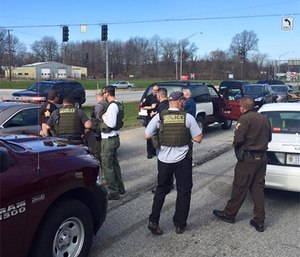 "I am very pleased that this matter was resolved quickly with our deputies not only being alert but also coordinating with a large response," LaPorte County Sheriff John Boyd said. "This is a serious crime that was resolved by our law enforcement officers quickly. We also appreciate the collaboration with investigators from the South Bend Police who worked side-by-side with our detectives to help bring criminal charges against the suspect."
Formal charges are pending.