911 call led DC officers to kidnapped 11-year-old girl
Officials said the girl was taken to a hospital and appears to be OK
---
Associated Press
WASHINGTON — Police say a 911 call led officers in Washington, D.C., to an 11-year-old girl who authorities believe was kidnapped after her grandparents were slain in North Carolina.
Maj. Mike Smathers of the Charlotte-Mecklenburg Police Department said at a news conference that a female in the car described in an Amber Alert called 911 Sunday saying she had been kidnapped. Based on the caller's description of her location, Smathers says police flooded the area and spotted the car.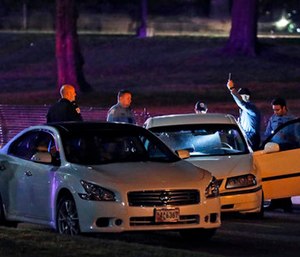 After a chase and crash near Washington's monuments and memorials, Metropolitan Police Department Capt. David Sledge says the kidnapping suspect was arrested.
Police say the girl's uncle, Curtis Atkinson Jr., is suspected of killing his parents at their Charlotte home.
Sledge says the girl was taken to a hospital but appears to be OK.