'It was an honor of a lifetime': Paramedic reflects on his time as former President George H.W. Bush's personal aide
Evan Sisley has spent time as a photojournalist, EMT, paramedic and corpsman, but it was the president himself who inspired Sisley to enroll in medical school to become a doctor
---
It has been over a year since former U.S. President George H.W. Bush died after a long battle with vascular Parkinson's disease.  
For most, November 30, 2018, was a day like any other. But, for Evan Sisley, it was the day he had to say goodbye to his patient – and friend – the 41st president of the United States. 
Prior to becoming President Bush's personal aide, Sisley spent time as a photojournalist, EMT, paramedic and corpsman. However, his most recent venture – enrolling in medical school – was a move the former president called a "resume builder" – something Sisley didn't initially understand until he took a step back and reflected on the president's career path.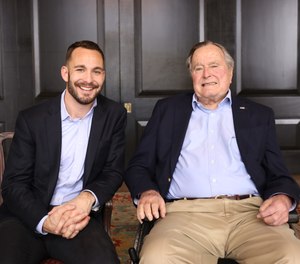 Choosing a career path 
Sisley, 33, grew up outside of Washington, D.C., in Chantilly, Virginia. He later attended Western Kentucky University in Bowling Green, where his studies focused on photojournalism.  
"At the time, print photography in magazines and newspapers like 'Time' and 'Newsweek' were an inspiration – it was a way to tell people's stories that were meaningful and would help make an impact on the world," he said. "That was the reason why I wanted to become a journalist." 
However, over time, Sisley became frustrated with his photojournalism career. 
"I felt that, hopefully, I would take that image that would inspire people to want to rise up and change things," he said. "But, eventually, I came to the realization that those images don't really come along as often as you think they do." 
Wanting to do more and make a bigger difference, he focused his efforts on emergency medical services. 
"You don't get as much positive feedback in journalism, but you go to bed every night knowing you made a difference when you're riding on an ambulance," he said. "You know that you affected somebody's life that day in a positive way."  
Sisley thought about going into nursing, but became a paramedic instead – a career path that was a natural fit due to his time as a corpsman.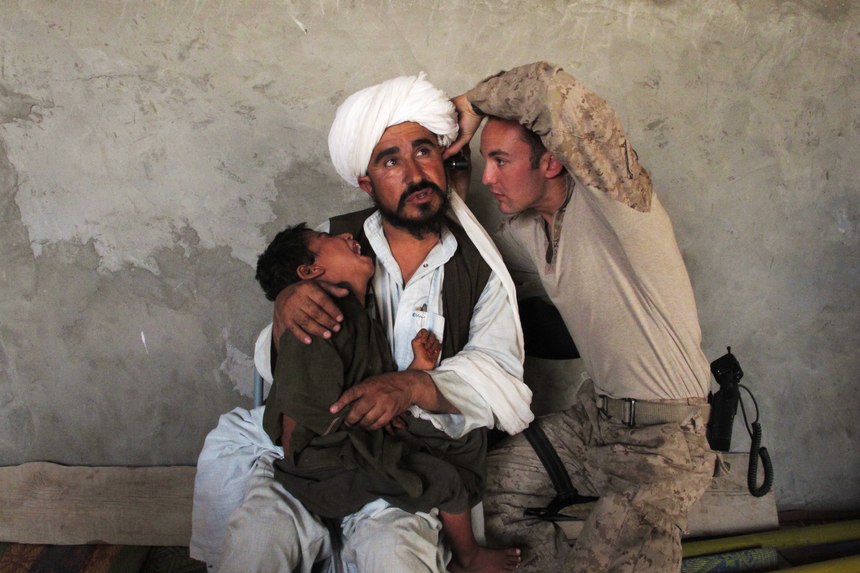 Dealing with high-stress combat 
Sisley was deployed to Afghanistan with Alpha Company 123, 1st Battalion, 23rd Marines. He was also deployed to Eastern Europe and Israel, where he took on a teaching role – providing education to foreign militaries about combat medicine. What struck him during this time was how fortunate the U.S. is to have access to various medical supplies.  
"It is never more apparent than when you are talking with medics in a foreign country who are also deploying to Afghanistan," he said.  
Sisley trained with the Georgian, Romanian and Lithuanian military, and learned they didn't have the same access to common supply items like compression bandages and tourniquets.  
"So, then it comes down to, 'How do we make it?' Not everyone is as privileged as we are," he said. "We all have the same job, but you have to become more resourceful in how you're teaching others to do these things."  
Sisley taught them the basics – all the way down to teaching them how to make a tourniquet with a cravat and a stick.  
"It's a completely different ball game, but it's very rewarding," he said.  
During his time in Afghanistan, he also became part of a small, embedded training team with the Georgian military. One incident in specific sticks out in his mind, when a 17-year-old medic performed a cricothyrotomy on a severely injured man.  
"There was an RPG that went into the front windshield of one of the transports they have – they're called MRAPs – and this 17-year-old kid ended up doing a cric on this guy, whose face was torn apart, and saved his life," he recalled. 
Some of the training the 17-year-old received, Sisley said, came from U.S. personnel who work with the embedded training teams to help educate foreign militaries. 
"Their capabilities are great, as long as they have the right resources," he said. "And, the same thing goes for us ... people definitely rise to the occasion when you're put in stressful situations."  
Eventually, Sisley transitioned from high-stress combat to high-risk geriatric care.  
'They didn't want healthcare at home' 
Sisley was stationed with a reserve Marine Corps infantry battalion that was based out of Houston, Texas, when former President Bush and his wife got to the point in their lives where they needed more specialized medical care. 
Jean Becker, chief of staff to the former president, recalled a segment she saw on "60 Minutes," reporting veterans were having a difficult time finding jobs once they returned home from active duty. 
"She went to the Bushes and said, 'There's a crisis and we need to do something,'" Sisley said.  
At first, the Bushes didn't want healthcare at home.  
"This is a conversation that pretty much every child has to have with their parents at some point, and it doesn't change just because you're a former president," Sisley said. "People want to keep their independence; they don't want somebody in their home providing healthcare." 
Becker explained the importance of giving veterans, like Sisley, new jobs, and the Bushes agreed, choosing Sisley's unit and hiring a couple of corpsmen to start providing in-home care. 
At first, the Bushes hired five veterans. Then, as their medical needs grew, they started hiring more paramedics. Sisley was one of the first two paramedics hired by the Bushes.  
Eventually, Sisley became the former president's personal aide – a role that was initially meant for personal assistants. 
"You did a lot of scheduling; you would travel with President Bush when he would travel ... things of that nature," he said. "But as he got older, the medical portion became much more important." 
That's when the Bushes shifted over to hiring a personal aide with a medical background. 
"It's easier to teach a paramedic how to schedule than it is to teach a scheduler to paramedic," Sisley said.  
Sisley performed his personal aide duties for four years – residing in Texas for half of the year and Maine for the other half.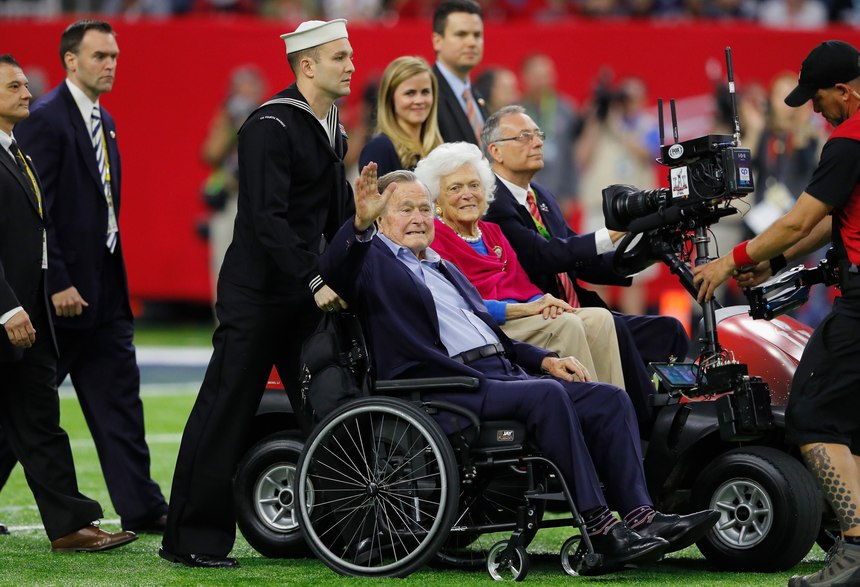 Providing day-to-day care 
As far as daily duties, Sisley's job was to oversee the team comprised of paramedics and EMTs.  
"We hired close to 20 paramedics," he said. "And we would always have one at the house 24/7." 
Sisley would round in the morning and evening to see how the Bushes were doing for a sense of consistency. He would also check in with the medics each day in case there were any patient care questions. 
"I saw the Bushes pretty much every day, so the ideal is to keep a consistent eye. Your patient can change a lot over several weeks. If you had a guy who only worked a couple times a month, you needed to keep a consistent eye to how a patient is trending." 
They also had physicians who oversaw the detail.  
"We had a medical control, and I would always have a physician, generally that was with the fire department, that provided medical direction for me as a paramedic," Sisley said.  
However, the team would also end up using a cardiologist, pulmonologist and an internist, depending on what they were dealing with. 
"I felt like that was kind of a different, unique way of doing things," Sisley said. "If you were dealing with something that you thought was pulmonary in nature, then you could go straight to the critical care pulmonologist, talk to him, and see what he thinks, or call the cardiologist and talk with her. That worked pretty well." 
And, the job came with its own risks and plenty of reward.  
"If you did something wrong, then it was going to end up on CNN," he jokingly said. 
The main reward, Sisley said, was forming a relationship with the former president and his wife. 
"It was an honor of a lifetime," he said. "Just really, really wonderful people." 
Overall, the team and their resources made it possible for the Bushes to spend their last years of life at home. 
A resume builder 
When Sisley decided to attend medical school, Becker was the first to give President Bush the news. 
"Jean told President Bush, 'Hey, Evan's finally decided what he's going to do after this.' And I said, 'Yeah, I think I'm going to try to go to med school.' And, he sat there and thought about it for a minute, and he said, 'Well, I think it's good training and I think it's a good resume builder.'" 
Sisley was confused by what he said. 
He thought, "'What do you mean? I want to go to medical school; I want to become a doctor. How is that a resume builder?'" 
But he wasn't picking up on what he was saying. He soon realized what the president meant.  
"This is a guy who built a successful business. Then he ran for Congress, became ambassador to the United Nations, and then after that was the director of Central Intelligence; he was chief liaison to China. Then, after all that, he became vice president. He didn't become president until he was in his 60s, and here I am talking about becoming a doctor in my 40s." 
Everything President Bush accomplished prior to becoming president was all a resume builder. 
"He finally hit the biggest job of his life when he was in his 60s," he said. "It was almost a little bit of a challenge. Like, 'OK, that's great. You're going to become a doctor. And then what are you going to do?'" 
The president's mantra, Sisley said, was always, "Onward and upward," something he now continually strives for.  
"I think if you become comfortable in a job, or what you're doing, then you need to be looking at how you can challenge yourself more." 
And, deciding to go back to school and become a doctor will certainly be a challenge.  
"I had thought about becoming a doctor before I ever worked for the Bushes," Sisley said. "I've always been really interested in the science behind medicine. Even when I was in Afghanistan, I used to get made fun of because I'd sit there and listen to pharmacology podcasts." 
When he left the military, Sisley did a year of trauma surgery research. At the time, he didn't feel like he could take the leap yet.  
"I didn't think, mentally, I was capable," he said. "I didn't feel like I was emotionally there yet. I had just come from really intense military situations; you get acclimated to high-stress combat and it's hard to come down off that." 
But working for the Bushes taught him how to challenge himself in different ways than he was challenged in the military. 
"It also taught me what a gift working for them has been," he said. "It's opened my eyes to a different level of service than I had thought of. I feel like I can serve my community at a different capacity by becoming a physician." 
Eventually, Sisley wants to practice emergency medicine. 
"I would say that paramedics probably make some of the best emergency doctors because of their experiences on ambulances. It shows them the ratio of true emergencies to not true emergencies and what's realistic," he said. 
His interest in emergency medicine, he says, has nothing to do with what you see on TV shows or movies.  
"I know that there will be a high ratio of people who have psychological problems, who are dependent and who struggle with addiction," he said. "These patients are what interest me about the field. The sprinkling of emergencies that end up occurring just keeps it interesting." 
Patient care takeaways 
Throughout his time as President Bush's personal aide, Sisley learned a lot about patient care. Most notably, the importance of not counting anyone out.  
"That's something I think everybody in healthcare needs to remember," he said. "It's important to always realize that your thought of when a patient is ready to die, and a patient's decision of when they're ready to die, can always be different." 
For example, when Mrs. Bush died, Sisley said he was shocked at the media's response. 
"Everyone on TV was saying, 'Oh, broken heart disorder ... he's going to end up passing immediately.' But they didn't know George Bush. There was an intense, amazing relationship that they had over 73 years of marriage, but to think that a guy who survived being shot down over the Pacific in World War II, and then was propelled to become the President of the United States, that he would just give up?" 
The idea of throwing in the towel, Sisley said, wasn't in his DNA. 
"He was the only person spared when his plane was shot down," he said. "And I think that was something that really pushed him to want to live every day – for those other guys that didn't make it." 
Sisley also learned the importance of giving elderly patients something to look forward to – something to keep them going. For President Bush, that meant he needed a mission.  
"There was something about him having a new dog when Mrs. Bush died," he said. "This is a guy who was extremely mission-oriented his entire life. I learned the importance of ensuring that elderly people always have that sense of purpose – that mission or something to look forward to next."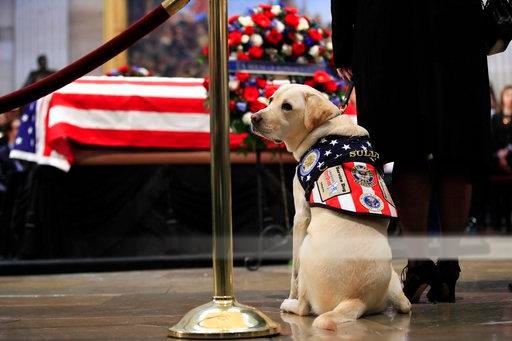 President Bush's service dog, Sully, led to him having a better quality of life after Barbara's death, Sisley said. 
"When you're providing care for somebody, you have to ensure that you're providing a holistic approach to care as well – not just focusing on physical health, but also mental and emotional health." 
The president, he said, was never bitter about aging and eventually being confined to a wheelchair.  
"Both of them gave a really powerful example of how to age, and die, gracefully," he said. "I think a lot of people can get upset by the cards they're dealt in life. But he didn't fade away. Even though he was in a wheelchair with a neck brace on, he still wanted to throw the first pitch at the World Series. He lived a full life." 
And while Sisley's role as President Bush's personal aide has made a lifelong impression on him, he said EMS is what ultimately opened his eyes to medicine. 
"EMS will always be a part of my life – no matter what I'm doing," he said.  
His work as a paramedic, he said, has been some of the most rewarding work he's ever done. 
"Whether it was on the streets in Austin, rural calls in Kentucky, working with the Bushes or as a volunteer at the fire department in Kennebunk, Maine, EMS is just such a wonderful way to get out in your community and provide some good." 
As for what's next after becoming a doctor, Sisley said he hopes to be involved in the national conversation on healthcare and EMS reform. But, in the meantime, his sights are set on acing his biology and calculus finals. 
Read next
New York Fire Department EMS Chief Lillian Bonsignore credits the support and encouragement she received from the women in her life for her success in emergency medicine
[Read: View from the top: A career climb rooted in female empowerment]