How to improve EMS patient handoffs at emergency department
Southwest Texas EMS agencies adopt a "time out" for transferring EMS patients to nurses and physicians
---
DALLAS — An EMS time out process for handing off patients to emergency department staff with a standardized verbal patient report and documentation form was described to medical directors and field providers at the 2016 Gathering of Eagles XVIII EMS State of the Science program.
The EMS Time Out, developed by the Southwest Texas Regional Advisory Council, mirrors other types of health care time outs, such as medication administration cross checks and pre-operative right site, right patient and right procedure confirmations.
The 30-second report from EMS, after the receiving nurse calls an "EMS Time Out," uses the MIST reporting format. These are the steps:
1. Nurse calls "EMS Time Out"
2. Patient movement and conversations stop
3. EMS delivers patient report
4. Receiving nurse completes form
5. Nurse provides EMS patient sticker
6. Patient moved to hospital bed
The MIST report components are: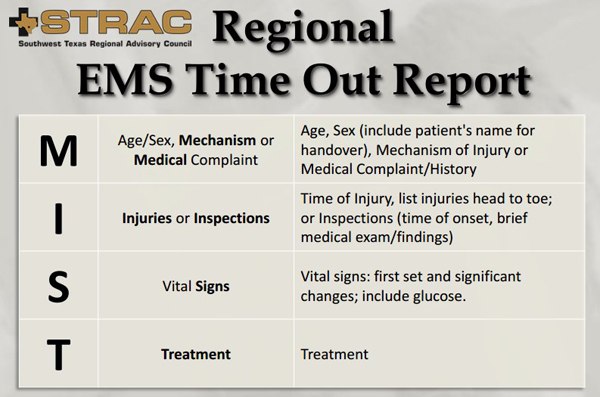 Memorable quote about the EMS Time Out
"Give EMS 30 seconds, we'll tell you everything you need to know!"
— David Miramontes, MD, NREMT
Additional resources
Here are additional resources to help your region's hospitals and EMS agencies adopt a standardized EMS time out.
Training video
Watch a short training video on the EMS Time Out Report which educates EMS providers and hospital staff on the process.
Time out report documentation form
This single-page form captures the MIST items reported by EMS providers to the emergency department nurses and physicians.
EMS Time Out promotion
This poster promotes the EMS Time Out.
Top Tweets
STRAC wants you to rob and deploy their resources on 30 second #EMS timeout in ED #Gatheringeagles16 https://t.co/4UKMhD7mzv

— Catherine R. Counts (@CatherineCounts) February 19, 2016
San Antonio EMS is using a "time out" procedure for EMS pt hand-offs in the ED using the MIST mnemonic. Brilliant! #GatheringEagles16

— Eagles Coalition (@EaglesGather) February 19, 2016
Visit GatheringofEagles.us to view the presenter's slides.