Credential removal is an option for EMS provider reckless behaviors
Reckless behaviors warrant careful investigation and potentially lead to remediation or termination of employment
---
DALLAS — A process to remove a paramedic's credential to practice was described by Paul Hinchey, MD, to medical directors and EMS providers attending the 2016 Gathering of Eagles XVIII EMS State of the Science program.
After completing a training program, a paramedic first receives a certification. Next, the paramedic receives licensure — usually from a state licensing authority. Usually the final step before a paramedic can practice or work as a paramedic for a specific department or agency is to be credentialed. The local credentialing process might include skill verification, passing protocol examinations and other types of readiness to serve or work testing.
Hinchey briefly explored types of errors or mistakes and the importance of reserving de-credentialing or barring a paramedic from practice for reckless behaviors. Process to address EMS provider behaviors needs to be independent of the patient's outcome. A bad patient outcome doesn't necessarily mean ill intent by the EMS provider. Similarly, ill intent can still lead to a neutral or good patient outcome.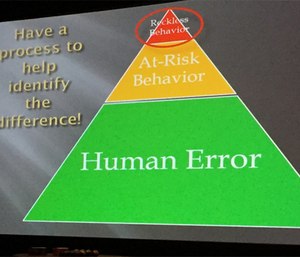 Some actions, though hopefully rare, are a conscious disregard of unreasonable risk. Reckless behaviors are serious and warrant careful investigation by the employer and potentially licensing and certification organizations.
Memorable quotes on mistakes in EMS
"We all make mistakes. The measure of your system is not the mistakes you make. It is the action taken when you make a mistake which is the true measure of the system."
"Good providers want to work with another good provider. People want to work with other good people."
— Paul Hinchey, MD
Key takeaways on errors and de-credentialing EMS providers
Here are takeaways for EMS providers and medical directors on errors and de-credentialing EMS providers.
Errors come from cognitive causes as well as process and environmental causes.
Agencies need a process to differentiate reckless behavior from unintentional human error.
Willful, reckless behaviors cannot be tolerated and need rapid remediation or termination of employments.
Good providers want validation of what they do is important and that they do it well.
Unstructured peer review can do more harm than good. Agencies need to put effort into peer review to make it work right.
Every agency needs a clearly stated and known list of absolutely unacceptable behaviors.
Hinchey recommended medical directors and supervisors learn more about Just Culture and read the IOM report "To Err is Human." A recently published follow-up report, "Free From Harm: Accelerating Patient Safety Improvement Fifteen Years After," is also available. The book, "Whack a Mole," was also recommended.
Top Tweets
"We are not judged by our best actions but by our worst"- Dr. Paul Hinchy#GatheringEagles16

— Kyle Jackolin (@KJackolin) February 20, 2016
Unacceptable Deadly Sins in Provider Behavior #GatheringEagles16 #FOAMems pic.twitter.com/I4dlBQ4wzp

— EMS Nation (@EMS_Nation) February 20, 2016