Confessions from the EMS State of the Science conference
An 'Eagleholic' learns and shares the latest on resuscitation guidelines, stroke management, community paramedicine, dispatch, quality and patient safety from 2016 Gathering of Eagles
---
By Bradley Dean
I am an Eagleholic! This is a problem I am glad to admit that I have.
My realization of being an Eagleholic hit me while sitting at the hotel bar reflecting on my experience at the EMS State of the Science: A Gathering of Eagles XVIII in Dallas.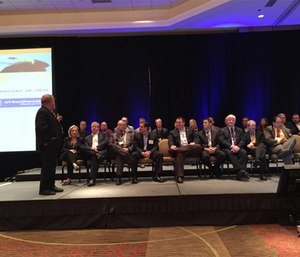 My addiction started several years ago when I first had the opportunity to attend, and I continue to return year after year, like many other participants.
The conference allows participants and faculty to share the most cutting-edge information and best practices in EMS patient care, research and management. The rapid fire, 10-minute presentations are packed with information. The conference organizer, Paul Pepe,, MD, sets-up the sequence of presentations into topical blocks which allows the faculty to present more than sixty presentations over two days.
Some of this year's major topics were resuscitation guidelines, stroke management, EMS deployment tactics in the new era of health care, advances in dispatch, quality and improvements in patient safety. 
Leading EMS forward
Here are few highlights of my highlights. Do more research, read other attendees highlights in the Twitter stream and visit the Eagles website for the presentations and references.
Resuscitation guidelines:
Nitroglycerin is safe for an inferior myocardial infarction. Yes it may cause a precipitous drop in blood pressure, but there is no statistically significant difference between this occurring in an inferior MI versus an anterior MI.
Chest decompression with 5 cm catheters has a high failure rate. Use a longer catheter and you may have to decompress at multiple sites for adequate results.
Lidocaine is still an acceptable antiarrhythmic alternative and may be used in place of amiodarone.
Hypothermia in children after cardiac arrest is a Class IIa recommendation.
Hands-only CPR in children has worse outcomes for health care providers, but is okay for short-term use early in the resuscitation and still recommended for layperson. 
Managing cardiac arrest in pregnancy is difficult. Maternal mortality rates in United States are increasing due to older mothers having concomitant medical comorbidities.
The AHA has guidelines for management of the near gravid female in cardiac arrest. It should be noted that the most often forgotten simple maneuver in these patients is manual left uterine displacement.
Considr any pregnant female in cardiac arrest as a difficult airway and manage with basic maneuvers such as bag-mask ventilations or supraglottic devices
Conventional CPR for any adult patient may not be enough. There may be implications for active compression/decompression.
There may be evidence that gravity assisted CPR (Heads-Up CPR) may be beneficial to increase venous drainage (return), decreasing intracranial pressure allowing for better cerebral perfusion.
Managing stroke patients:
The main EMS focus is to decrease the time to treatment at a Stroke Center.
Drawing blood for all the requisite lab values is NOT required to give tPA, but a blood glucose should be obtained.
For every 1 minute delay in reperfusion during a stroke the patient is loosing over a billion neurons, and 7 miles of axonal fibers.
For every hour before reperfusion that neuron loss equates to 3.6 years of aging to the brain.
Watch for emerging trends and information on large vessel occlusion treatment and management.
A stroke is like a gun shot wound to the brain, except we can reverse a stroke!
Deployment tactics in the new era of health care:
Medicare waivers have allowed telehealth innovations to redirect patients away from hospital emergency departments to other appropriate services reducing health care costs.
Different deployment models may require different staffing as a mix between paramedics, nurses, or mid-level providers, such as nurse practitioners and physician assistants.
EMS system redirection of ambulances away from busy facilities that are resource exhausted to other available facilities distributes the workload across all systems of care.
It is important for EMS systems to assess scene delays to see if it is a system issue, or a provider issue and take appropriate steps to reduce delays.
Advances in dispatch tactics:
No-No-GO! Is the fastest way to get hands on the chest for cardiac arrest victims. 9-1-1 dispatchers should ask, "Is the patient conscious?" and "Are they breathing normally?" If the answer is No and No, then GO to chest compressions!
It is okay to provide chest compressions for unconscious patients in suspected arrest and the patient to not really need compressions. But it is not okay to fail to provide chest compressions to someone who needs it!
Quality in EMS:
You can not improve that which you can not measure.
Find something simple to start with and measure the quality, and make improvements.
Improving patient safety in EMS:
Medication errors can be reduced through proper training and review of medication calculations.
Use flowsheets and checklists for high-acuity patient problems or treatments like, rapid sequence induction, high-risk chest pain, CPR, management of post cardiac arrest patients, and asthma.
Violence and crew safety in EMS:
Ambulance crashes are on the rise! EMS administrators need to examine the reasons collisions occur and look for ways to decrease responses using lights and sirens while still providing appropriate response for the call for service. 
Behavioral health encounters are increasing with limited resources for appropriate disposition of patients. 
Many EMS personnel are not trained to recognize indicators of violence and need better situational awareness training.
The opioid drug epidemic increasing and spreading nationwide. Every community needs to be ready for the increase in overdoses, and potential for multiple overdoses at one scene.
Synthetic cannabinoid use and heroin laced fentanyl overdoses are on the increase in many communities.
Cyanide antidote kits are not widely available for emergency services personnel or smoke inhalation victims, but are greatly needed due to byproducts of combustion often releasing cyanide. 
Those with cyanide exposure are dealing with more than an airway problem, they are suffering from cellular asphyxiation and hydroxocobolamin is the only antidote that quickly works as an antidote.
Trauma, mass gatherings and disaster care:
Having physicians trained and able to respond to major incidents is seldom planned for, but sometimes needed.
Response plans for physician response in entrapment situations for field amputations is something EMS needs to look to put in place.
EMS personnel need training in how to do appropriate wound packing to stop bleeding.
Regular wound dressings may be as effective as hemostatic treated wound packing when done properly.
There are some systems that are beginning to plan and stock up for more than the 72 hours to 7 days of business continuity after a local, regional, or global disaster. They are even beginning to make provisions for family members of staff to reduce staff anxiety in the aftermath of a disaster times.
Measure, monitor and document competencies of personnel:
When an EMS provider can no longer perform at the expected clinical level the agency needs to follow a de-credentialing process.
We are often not judged by our best, but by our worst. So lets make our worst, not all that bad.
EMS System administrators should review the tenants of just culture, adopt a process to encourage self reporting, identify system failures, and address provider behaviors independent of the patient outcome.
Transport destinations, response times and skills definitions:
There are pros and cons to free standing emergency departments. EMS systems should identify the resources available and work with the facilities to best determine what they will treat, and what may need additional inpatient resources at a hospital.
There may be some reimbursement issues when transporting to free standing emergency departments versus a hospital emergency department.
The quality of an EMS system is more than just getting there fast. The old response time standards from the 1970's needs to be revisited by EMS systems and each system should use evidence-based approaches to their respective system design. 
We should be in the relentless pursuit of optimal out of hospital emergency care, while maintaining the safety of the public and the professionals within our EMS Systems.
I am a functional Eagleholic and I likely share the addiction of learning readers of these highlights. Join me and become an Eagleholic at the 2017 Gathering of Eagles.
About the author
Bradley Dean is the Battalion Chief over the Training Division for Rowan County Emergency Services in Salisbury, N.C. He also serves as the Paramedic Program Director for Rowan-Cabarrus Community College. Dean began his career as a volunteer with the Thomasville (N.C.) Rescue Squad and in 1996 went to work for Davidson County EMS in Lexington, N.C. where he still works part-time. He and several colleagues host the Tuesday EMS Tidbits podcast and Facebook group to share EMS ideas and tips.