Cardiac arrest research dominates Eagles conference
Medical leaders presented studies on when to stop resuscitation efforts, the use of prehospital ultrasound, and how to use gravity to improve cerebral perfusion
---
New research in cardiac arrest care and resuscitation dominated much of the conversation as medical directors from some of the largest EMS agencies in the nation gathered in Dallas to talk about the latest developments in prehospital care at the 17th annual EMS State of the Sciences Conference in February.
Dubbed the "Gathering of the Eagles," the conference consists of more than 60 presentations over two days, with most constrained to a 10 minute timeframe. As in past years, a wide range of topics were covered. While highlights included discussions of system design and technology, a look at naloxone use by first responders and bystanders, and groundbreaking research from across the country, many of the presentations focused on new studies in cardiac arrest patients and resuscitation  
'Morphine sucks for STEMIs'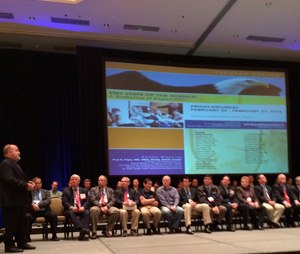 As is tradition, Nashville's Corey Slovis, MD, started the conference with a look at his five "most important" peer-reviewed papers published in the last year. All five concerned the care of cardiac patients, including one that questioned the use of morphine for patients suffering an acute myocardial infarction.
The study, published online in Circulation: Cardiovascular Interventions, found an association between morphine administration and decreased effectiveness of platelet inhibitors. They also found higher levels of nausea and vomiting among STEMI patients who received morphine. Slovis said there is more than enough evidence to suggest using fentanyl to treat pain in acute MI patients.
"Morphine sucks for STEMIs," Slovis told the audience. "Stop using it."
Concerns about hands-on defibrillation
Slovis also discussed a paper published last year in Circulation that concluded hands-on defibrillation was not safe. But the study, he said, cannot be considered conclusive because it measured electrical energy in cadavers being defibrillated.
"This is the first hands-on defibrillation trial not to use hands-on defibrillation," he said, suggesting that a "real-life" study was needed before drawing any conclusions.
Gravity-assisted CPR
Perhaps the most surprising cardiac arrest research presented at Eagles this year, however, involved much simpler technology—just the mechanism that tilts the head of the stretcher.
Paul Pepe, MD, the conference's entertaining emcee and a veteran EMS physician, presented the early results of research on "gravity-assisted CPR," which entails placing the patient at a 30-degree angle so their head is elevated. The theory? Decrease intracranial pressure so that CPR-assisted circulation to the brain has less resistance.
Pepe showed that on pigs, elevating the upper body produced significantly higher cerebral perfusion pressures thanks to the lower intracranial pressures—in other words, drain more venous blood from the brain so that more oxygenated blood enters the brain with each compression.
"We are achieving our goal of getting better blood flow to the brain using this methodology, just by using gravity," Pepe said.
When to stop resuscitation efforts
Brent Myers, MD, continued where he left off last year, discussing the Wake County EMS's work with SAS, the statistical software company based in the county, to use EMS and hospital cardiac arrest data to determine how to decide when to cease resuscitation efforts.
"We think it is a combination of [cardiac] rhythm and ETCO2 values that help make these decisions," he said.
The database has more than 3,000 patients and outcome information for nearly all of them, so researchers can look at which patients survive, not simply which ones have a return of spontaneous circulation (ROSC) in the field. Early results found that a small, but significant number of cardiac arrest survivors were resuscitated for well over 20 minutes before regaining brain function. The question is figuring out which patients have that chance in order to avoid prolonged resuscitations on every arrest.
While EMS might need to rethink its traditional 20 to 25 minute cut-off, every resuscitation does not need to go for 60 minutes," Myers said.
Use of prehospital ultrasound
The resuscitation conversation continued with three talks on diagnostic tools not typically used in the field that are now being tested in EMS systems.
Drew Harrell, MD, with the Albuquerque, N.M., Fire Department, said that he was skeptical that prehospital ultrasound for trauma exams added any value—but that EMS use of ultrasound might be useful for evaluating whether a patient in pulseless electrical activity (PEA) has any cardiac activity.
"No patient who had cardiac standstill survived, regardless of the initial presenting ED rhythm," Harrell said of one study, suggesting that ultrasonography could be used to determine whether a patient's heart truly wasn't beating or if a pulse is just undetectable due to low blood flow.
Transesophageal echocardiogram in the field
Another technological solution to determining whether a patient is truly in asystole or fine ventricular fibrillation, or a PEA with cardiac activity versus one without, was presented by Scott Youngquist, MD, of Salt Lake City, where they are studying the utility of transesophageal echocardiogram (TEE) in the field.
"PEA is a dangerous rhythm," Youngquist said. "In two out of three cases, the patient has a heart beat … How accurate are pulse checks? This is probably one of the most inaccurate diagnoses we do."
Youngquist demonstrated how TEE could also be used to determine if asystole was truly asystole or possibly fine VF. It can also be used to evaluate chest compressions and potentially guide hand placement during CPR.
While the true efficacy of ultrasound or TEE for field resuscitation is not known, and both are expensive and not designed for use by ground ambulance crews, what is clear is that new technologies and innovative research are changing the way cardiac arrest is perceived—patients who were once dismissed as "dead" are now considered to have a treatable condition that can be reversed.
Following the heart or the head?
Another new way of viewing cardiac arrest was presented by RJ Frascone, who suggested that the focus of determining the futility of resuscitation should be the brain, not the heart. After all, with mechanical CPR, ventricular assist devices and extracorporeal membrane oxygenation (ECMO), as well as heart transplants, a patient whose heart is not functioning properly can still survive.
"The condition of the brain might be more important than the condition of the heart when determining if and when to resuscitate and terminate," said Frascone, the medical director for Regions Hospital EMS, in St. Paul, Minn..
Frascone presented the case for using bispectral index monitoring (BIS) to measure brain activity. At the time of his talk, Frascone and his colleagues had only used it on 11 patients, but the audience was clearly intrigued at the idea of finding ways to measure a patient's potential for a good neurological outcome.
Other discussions related to CPR included:
The need to educate practitioners on discussing death with families and bystanders, especially following pediatric cardiac arrests.
Practicing a systematic method for applying mechanical CPR devices and slightly delaying their use to avoid pauses in compressions.
Using metronomes to prevent excessively high compression rates.