Pa. EMS agency closes due to lack of volunteers
Chief Alexander Cortezzo said "this decision was one of the hardest ones we had to make as a company"
---
Christina Tatu
The Morning Call (Allentown, Pa.)
PLAINFIELD TOWNSHIP, Pa. — The Emergency Medical Services division of the Plainfield Township Volunteer Fire Department is closing, adding to a growing list of EMS providers forced to close over the years because of shortage of volunteers.
Since Jan. 21, Suburban EMS, a nonprofit ambulance service in Northampton County, has started providing primary coverage to Plainfield, says a letter sent to residents from Plainfield Fire Chief Alexander Cortezzo earlier this week.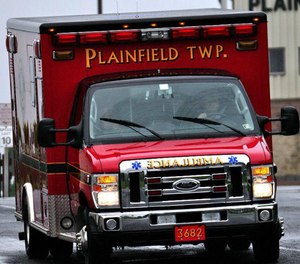 "Our EMS Services will continue to help as we can muster volunteer crews through the mandatory 90 day window," Cortezzo said, which means April 14 will be the final day Plainfield Township Volunteer Ambulance Corps will answer calls.
"We have been in the ambulance business since the 1960s and this decision was one of the hardest ones we had to make as a company," Cortezzo said. The division has been forced to rely on an ever-shrinking pool of volunteers, he said.
Suburban does not charge a fee to operate in the township. About 90 percent of its costs are covered by the patients' insurance, said Ryan Hoff, Suburban's director of services.
After months of discussion, Plainfield Township supervisors voted in December to go with Suburban for EMS coverage. Suburban had already been filling in when there weren't enough volunteers on staff, said Township Manager Tom Petrucci.
"In my opinion, this is an improvement in coverage based on where we were at before. Suburban has always had a presence in Plainfield," Petrucci said, noting the company also services surrounding areas like Nazareth and Wind Gap.
Last year, there were 750 dispatch requests for Plainfield Township EMS.
Cortezzo estimates Plainfield answered 35 to 40 percent of those calls and the rest went to mutual aid departments like Suburban.
The Plainfield Township Volunteer Fire Department has about 30 active volunteers, eight of whom are trained emergency medical technicians. The EMS side of the company had paid shifts from 6 a.m. to 6 p.m., but from 6 p.m. until midnight relied on volunteers, Cortezzo said.
Unfortunately, the pool of paid staff and volunteers wasn't nearly as large as it once was.
"We've been having trouble maintaining paid staff. Other bigger employers in the area offer more competitive wages," Cortezzo said.
The shortage of volunteer emergency medical technicians has been an issue across the state, and officials say it is reaching epidemic proportions.
"It's pretty serious. I would say if there are not corrections made to the system, we will be in a pretty dire area in the next couple of years," Hoff said.
There are 15 volunteer emergency medical service providers that have closed their doors in Northampton County over the last 15 years or so, he said.
For now, nonprofit companies like Suburban have been able to fill in the gaps — often taking up residence in ambulance bays once occupied by volunteer departments — so the Lehigh Valley hasn't experienced an increase in response times.
But a 95-page report issued by the state legislature in November says volunteerism continues to decrease for both EMS officials and volunteer firefighters.
"As with fire services, a mix of long-term stagnant and declining reimbursements, limited other financial support, and changes to our societal view of volunteerism have negatively impacted EMS throughout the state, leading to EMS agency failures and closures," the report says.
In addition, the aging population in the state places a significant demand on emergency services, the report says.
The number of Emergency Medical Technicians has fallen by more than 6,000 since 2012, while the number of paramedics is down by 4,000 providers during the same time period, the report says.
The Pennsylvania Bureau of Emergency Medical Services estimates the number of active providers is approximately 17,000 statewide, down from an estimated high of 30,000, says the report.
"Many agencies are transitioning or have already transitioned form a volunteer-based model to one with part-time or full-time staff to maintain state licensure requirements and an ability to respond as required," the report says.
Hoff believes better models for reimbursement, recruitment and retention of employees and volunteers needs to be developed. He believes in the future more EMS operations will regionalize to pool their resources.
If departments are experiencing a shortage, he encourages them to take an approach like Plainfield Township, where supervisors started talking about the problem and exploring their options months in advance before it became an emergency.
———
©2019 The Morning Call (Allentown, Pa.)
McClatchy-Tribune News Service