Video: Ohio paramedics treat NFL player who flipped his Porsche
The Browns' Myles Garrett and a female passenger were treated for injuries and transported to a hospital
---
Mary Kay Cabot
cleveland.com
CLEVELAND — If Myles Garrett has his way, flipping his Porsche several times on the way home from Browns practice Monday afternoon and sustaining non-life threatening injuries won't keep him from playing Sunday in Atlanta against the Falcons 1-2.
Garrett is on a mission to help the Browns win a Super Bowl this season, and not even a terrifying accident is enough to stop him.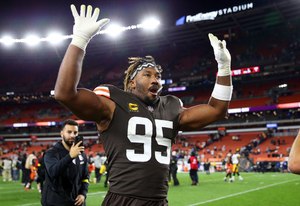 The Browns announced Tuesday afternoon that he suffered a sprained shoulder, a biceps strain and some lacerations when he flipped his Porsche Monday afternoon on the way home to Medina after practice at about 3 p.m. The lacerations were to his right hand.
He was also cleared of a concussion and will be evaluated throughout the week to determine if he can play, which would be remarkable considering the smashed-up condition of the car. Both he and his female passenger, who were both wearing seat belts, avoided life-threatening injuries.
"First – and most importantly – we are thankful that Myles, his passenger and no other parties were seriously injured in the single-car accident yesterday," Browns GM Andrew Berry said in a statement issued Tuesday afternoon. "After medical evaluation today, our team doctors at University Hospitals have concluded that Myles has sustained a shoulder sprain, biceps strain, minor lacerations as well as some bumps and bruises to various other body parts.
"Myles didn't suffer any fractures and has also cleared concussion protocol. Currently, our focus is on providing Myles the medical care needed for him to return to football activity. Although we hope to have him back soon, his availability for Sunday's game in Atlanta will be evaluated by team doctors throughout the week."
Authorities on Tuesday released a video of Garrett after he crashed his car in rural Medina County.
The body cam video, from the Medina County Sheriff's Department, shows Garrett dazed and sitting near his totaled 2021 Porsche 911 Turbo S. Paramedics and firefighters gently walked Garrett away from his car. He had a bloodied right hand and seemed disoriented. They also tended to his left shoulder or biceps. A paramedic was treating a female passenger nearby.
Garrett and his passenger were taken to a nearby hospital for injuries and later released.
NFL Network reported that Garrett swerved to avoid an animal on the wet road and that he overcorrected.
Sgt. Ray Santiago of the Ohio State Highway Patrol told cleveland.com that Garrett "was definitely not impaired by drugs or alcohol." Santiago also confirmed that both were wearing seat belts when his gray 2021 Porsche 911 Turbo S flipped multiple times.
"We're very grateful that he and his passenger are alive," Santiago said.
Santiago does not believe that Garrett was trapped in the vehicle when troopers arrived "but I know he was alert and aware at the time."
State troopers were sent to the area of State Road, near Ridgewood Road, at 2:58 p.m. Monday based on a report of a rollover crash with an injury. When troopers arrived, they discovered the vehicle off to the right side of the road with rollover damage. The preliminary investigation revealed the Porsche had been traveling southbound on State Road when it went off the right side and overturned.
The accident, in Sharon Township in Medina County, is under investigation by the Ohio State Highway Patrol, and the Browns are gathering more information.
"We're looking into everything to make sure we're thorough, just as we would with any crash investigation," Santiago said.
Garrett participated in Monday's short practice, from about 11:25 a.m. to 12:30 p.m. He remained at the facility for a short while thereafter, and made a brief appearance in the locker room when it was open to the media.
Cleveland.com spoke to Garrett briefly as he was walking out of the locker room about Steelers right tackle Chukwuma Okorafor, who jumped on Browns linebacker Anthony Walker Jr.'s back Thursday after Walker was injured on the play. Garrett said it was "a bull---- play' by Okorafor. Walker is out for the season with a torn quad tendon.
If Garrett is forced to sit out the game, the Browns might be without their top two defensive ends. Jadeveon Clowney suffered a sprained ankle against the Jets Sept. 18, and sat out the Steelers game Thursday night. He was also idle during Monday's practice.
Garrett, who's aiming for NFL Defensive Player of the Year honors this season and trying to help the Browns win the Super Bowl, needs one sack to break Clay Matthews' career club record of 62.
___
©2022 Advance Local Media LLC.
McClatchy-Tribune News Service