Police: Driver's illegal U-turn caused crash that killed Calif. paramedic
American Medical Response paramedic Edward Lustro was killed in a crash that occurred after another drive made an illegal U-turn
---
By EMS1 Staff
PALM SPRINGS, Calif. — A police investigation revealed that a driver making an illegal U-turn caused the crash that killed an American Medical Response paramedic on Monday.
The Desert Sun reported that paramedic Edward Lustro was driving his motorcycle home after a 12-hour shift, when he was hit and killed by the driver of a Honda in the next lane.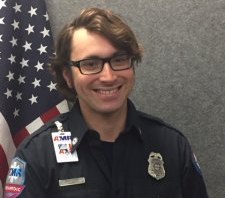 The Riverside County Coroner said Lustro died at the scene.
Mourners brought flowers and candles to a makeshift memorial at the base of a palm tree near the crash site.
"Everyone feels a loss," Doug Key, AMR regional director, told the Desert Sun. "Everyone takes it personally."