Off-duty medic who aided others in 133-vehicle pileup shares story on Toyota podcast
MedStar Paramedic Trey McDaniel was injured and his vehicle was totaled after being hit by a semi-truck
---
By Laura French
FORT WORTH, Texas — A paramedic who survived and aided others in the fatal 133-vehicle pileup in Fort Worth last month gave a detailed first-person account of the incident on the Toyota Untold podcast last week. 
MedStar Mobile Healthcare Paramedic Trey McDaniel's Toyota FJ Cruiser was struck by a semi-truck at full speed during the massive crash that left six dead and dozens more injured. Despite suffering injuries himself, McDaniel stayed at the scene to help others.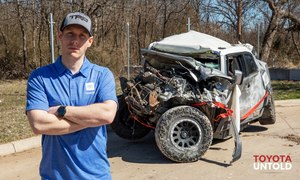 In an episode of the newly-relaunched Toyota Untold podcast, McDaniel describes what he experienced when his vehicle was struck from behind, causing it to flip over a barrier. He explains how he then began walking around to other cars to check on people, and later worked alongside responding crews to aid patients. 
"My supervisor sees me, he's like, 'What are you doing?'" McDaniel recounted. "... I'm doing my job." 
McDaniel credited his FJ Cruiser as the reason he survived the crash. After McDaniel posted a photo of the totaled vehicle on a Reddit page dedicated to discussing FJ Cruisers, Toyota offered to replace the vehicle and commended McDaniel for his heroic actions. McDaniel received a new 2021 4Runner TRD Pro from the company. 
You can read a full transcript of McDaniel's interview with Toyota Untold host Tyler Lichtenberger on the Toyota website. 

Read next
'A career event': Traffic incident management in 130-vehicle pileup
Breaking down police, fire rescue, EMS roles in a traffic incident management system