N.J. ambulance crew rescues 2 people from burning vehicle
A McCabe Ambulance crew pulled two people from a burning car after it had crashed into a tree
---
By Rachel Engel
BAYONNE, N.J. — An EMS crew rescued two people from a burning vehicle after it crashed into a tree.
A McCabe Ambulance was dispatched to the scene of a motor vehicle accident in which a car had crashed into a tree at a high rate of speed, Tap Into Bayonne reported.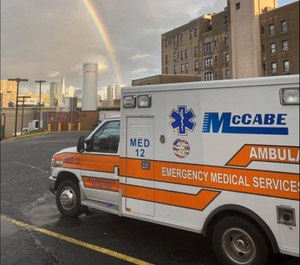 At that point, the car caught fire, Mickey McCabe, founder of McCabe Ambulance, said, prompting providers to switch gears.
"While they made all the necessary notifications, they didn't wait," he said. "They took charge."
One EMT used fire extinguishers from the rig to douse the car flames, while three other providers extricated the two victims from the vehicle.
"By the time the police arrived, the fire was out, and the patients extricated and loaded into each ambulance ready for transport," McCabe said. "These EMTs saved those kids' lives. In my 40 plus years in this business, I haven't quite seen anything like this before."
The four EMTs were identified as Capt. W. Asia; D. Nietro; N. Brown; and L. Leppler.