More than 60 vehicles involved in Va. crash; 35 people taken to hospitals
Officials said at least two people sustained life-threatening injuries in the chain-reaction pileup
---
By Steve Roberts Jr. and Josh Reyes
Daily Press (Newport News, Va.)
YORK COUNTY, Va. — More than 60 vehicles were involved in a crash on I-64 westbound near mile marker 240 in York County Sunday morning, according to Virginia State Police spokeswoman Sgt. Michelle Anaya.
Thirty-five people were taken to hospitals, including two people who sustained life-threatening injuries in the accident, said Anaya, who put the total number of cars involved at 63.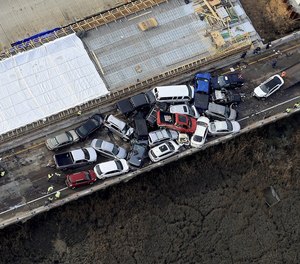 Riverside Regional Medical Center is treating 24 patients from the accident, according to a tweet from Riverside spokesman Peter Glagola. Glagola said one had serious injuries, five are being treated for moderate injuries and 18 for minor injuries.
The crash happened around 7:51 a.m. and blocked the interstate heading in both directions between Camp Peary and Humelsine Parkway, Anaya said in a news release. Many of the vehicles piled up on the bridge that crosses Queens Creek.
Officials have not shared details of the crash, including what may have caused the initial accident and what caused the ensuing pileup.
Photographs and videos posted to social media by people involved in the crash showed a bank of fog blanketing the area Sunday morning.
Ryan Rogers, a meteorologist at the National Weather Service at Wakefield, said visibility for the region was poor. At the nearest weather station in Williamsburg, the fog had reduced visibility to less than a quarter mile 20 minutes before the crash occurred.
The weather station in Williamsburg and the second closest to the crash at Ft. Eustis recorded air temperatures of 32 degrees, Rogers said. The Ft. Eustis station also recorded freezing fog. Rogers said it was possible freezing fog — supercooled water droplets that can freeze instantly into black ice — had impacted the bridge.
Traffic cameras showed all westbound lanes blocked as of noon. Eastbound lanes were blocked in the morning but had reopened by 11:30 a.m.
The number of vehicles involved has grown as authorities have responded to the incident. Initially, state police reported 35 involved, while the Sheriff's Office reported 45. State police later said the total was 63.
Anaya said 25 state police units were investigating the scene.
Tow trucks arrived at crash site to remove vehicles from the interstate. Around 11 a.m., there were still more than 20 vehicles on the road, with trucks working at each end of the crash.
Traffic was backed up in both directions throughout the morning, according to VDOT. Anaya said motorists should expect Interstate 64 to remain shut down for an extended period of time as state troopers continue to investigate the crash.
Law enforcement detoured traffic around the crash for much of the morning.
———
©2019 Daily Press (Newport News, Va.)
McClatchy-Tribune News Service