Elevated U.S. traffic deaths dropped in first 9 months of 2022
The National Highway Traffic Safety Administration estimates that 31,785 people were killed in crashes from January through September last year, down 0.2% from the same period of 2021
---
By Tom Krisher
AP Auto Writer
DETROIT — The number of traffic deaths on U.S. roadways fell slightly during the first nine months of 2022, but pedestrian and cyclist deaths continued to rise.
The National Highway Traffic Safety Administration estimates that 31,785 people were killed in crashes from January through September last year, down 0.2% from the same period of 2021.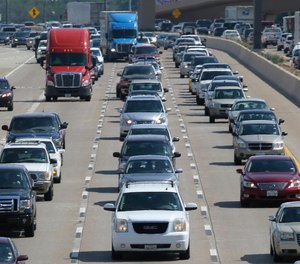 The agency also estimates that fatalities dropped slightly in the third quarter of the year, the second straight quarterly decline after seven quarters of year-over-year increases.
Agency Acting Administrator Ann Carlson said in a prepared statement Monday that there's still more work to do to address a crisis on the nation's roads. She urged people to drive safely and watch out for vulnerable road users such as pedestrians, cyclists and motorcyclists.
The Governors Highway Safety Association, a group of state traffic safety officials, said the reduction in deaths is welcome, but it follows an unprecedented two-year surge in roadway deaths and dangerous driving.
The number of deaths is down by only 65 from January through September.
"Today's news is a small step forward for safer roads," the group said, blaming the spike in 2020 and 2021 on unsafe driver behavior, including speeding, impaired and distracted driving and lack of seat belt use.
Fatalities began to rise two years ago when roads were largely empty due to stay-at-home orders in many states during the height of the COVID pandemic. With less traffic, speeds increased, as did reckless and impaired driving, leading to a record spike in deaths last year, authorities have said. Many people weren't wearing seat belts, the government said.
NHTSA says its estimates typically are close to actual numbers. Final figures for 2022 won't be released until later.
NHTSA said that Americans are driving more than during the height of the pandemic, with preliminary Federal Highway Administration data showing a 1.6% increase in vehicle miles traveled in the first nine months of last year. As a result, the estimated fatality rate for the period fell to 1.3 deaths per 100 million miles traveled, compared with 1.32 a year earlier.
According separate estimates on the first half of last year, the number of cyclists killed in crashes rose 8% compared with a year earlier, while motorcyclist deaths rose 5% and pedestrian deaths were up 2%.
Fatalities on rural interstates rose 12% during the first half of 2022, and crashes involving at least one large truck were up 10%, according to NHTSA estimates.
But deaths fell 10% on urban collector and local roads, and dropped 10% among children younger than 16. Speeding-related crashes fell 2% during the period, and decreased 7% among people who weren't wearing seat belts.
Nearly 43,000 people were killed on U.S. roads in 2021, the highest number in 16 years as Americans returned to the roads. The 10.5% jump over 2020 numbers was the largest percentage increase since NHTSA began its fatality data collection system in 1975.
In an effort to reduce the deaths, the federal government is sending $5 billion in aid to cities and localities to slow vehicles, carve out bike paths and nudge commuters to public transit.
____
This story has been corrected to fix the time frame for estimates of the increase in deaths of cyclists, motorcyclists and pedestrians. It is the first half of the year, rather than the first nine months.