Aspiring paramedic reunites with air ambulance pilot after car crash
Victoria Duran credits Flight Nurse Clint Kneuven and other first responders for saving her life after the crash eight years ago
---
By EMS1 Staff
BAYTOWN, Texas — A Texas woman training to become a paramedic reunited with an air ambulance pilot and other first responders and thanked them for helping her after a car crash eight years ago.
San Jacinto College student Victoria Duran credited Memorial Hermann Flight Nurse Clint Kneuven and members of the Baytown Fire Department with saving her life after the rollover crash that left her with serious injuries, according to KHOU.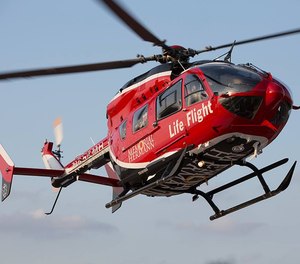 Duran said the actions of the first responders inspired her to pursue a career in EMS.
"If it wasn't for them, then I really wouldn't be here," Duran said. "It made me want to do it even more."
Kneuven and the Baytown firefighters surprised Duran at an EMS training exercise at San Jacinto, and she thanked them for helping her and for motivating her to want to help others in the same way.
Kneuven gave Duran a tour of a Life Flight helicopter similar to the one she was transported in after the crash.
"It's always nice to see if you have an impact on people's life," Kneuven said.