10 children, mother transported after suspected DUI crash
The suspect's pickup truck was split into two pieces as a result of the incident, Indiana State Police reported
---
An earlier version of the story incorrectly stated the victims were in the pickup truck; the article has been updated to reflect accurate details.
By EMS1 Staff
ALLEN COUNTY, Ind. — A woman and her 10 children were transported to an area hospital after a suspected drunk driver slammed into their vehicle, WRTV Indianapolis reported.
When Indiana state troopers arrived on scene, they noted the suspect's vehicle was "literally split in two pieces," according to a news release from Indiana State Police. The victims' Ford vehicle was resting in a side ditch with front-end damage.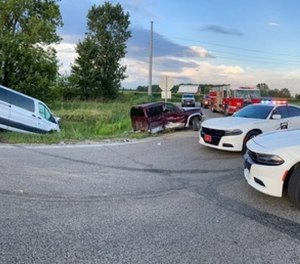 The children's ages range from six months to 15 years old, and all occupants were wearing their seatbelts, the police report noted.
"Proper seatbelt restraints coupled with properly deployed airbag technology in the van were the keys to serious injury prevention," the release states.
The driver of the pickup truck was reportedly "less than cooperative," according to police, and the investigation will be turned over to the Allen County prosecutor for review.
An investigation into the incident is ongoing.