Climber in critical condition after falling nearly 1K feet down Alaskan mountain
Officials said the Canadian man "was alive but unresponsive due to multiple traumatic injuries"
---
Tess Williams
Anchorage Daily News, Alaska
HEALY, Alaska — A climber fell about the length of three football fields Monday evening on Denali and is in critical condition, Denali National Park and Preserve officials said Tuesday.
Climbers at the high camp on Denali's West Buttress route saw a mountaineer "take an almost 1,000-foot tumbling fall from Denali Pass" at 18,200 feet around 6 p.m., park officials said. The climber, who was identified as 31-year-old Adam Rawski from Barnaby, British Columbia, was descending the mountain with three other people when he fell, said Maureen Gualtieri, a spokeswoman for Denali National Park.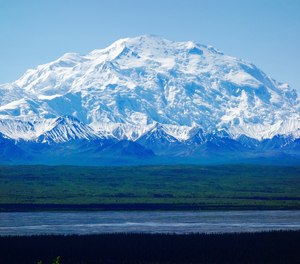 Rawski was not roped, according to park officials.
"Typically, falls that occur on the descent are often due to fatigue, and that would likely be the major contributing factor last night," Gualtieri said over the phone Tuesday. "It did not seem to be weather. That terrain this time of year sounds typical for an early season upper mountain — not a lot of snow and what's up there is very hard packed. So it's not difficult to lose one's footing, and then hard to recover or stop the fall."
Several guides at the 17,200-foot high camp who had seen Rawski fall headed toward him. He "was alive but unresponsive due to multiple traumatic injuries," park officials said.
Denali National Park's high-altitude helicopter was conducting glacier monitoring surveys at the Kahiltna Glacier base camp on the mountain when the climber fell. Pilot Andy Hermansky flew to a camp at 14,200 feet to pick up mountaineering ranger Chris Erickson, according to park officials, and they arrived in the area where Rawski fell less than 30 minutes after the initial call for help.
One of the guides who responded helped Erickson load Rawski into the helicopter and he was brought to Talkeetna, park officials said. Matanuska-Susitna Borough paramedics provided immediate care until a LifeMed helicopter took Rawski to an Anchorage hospital in critical condition, according to park officials.
Gualtieri called the response remarkable and said it would have taken crews much longer to rescue Rawski had the helicopter and mountaineering ranger not already been on the mountain.
"I think all the pieces came together well to get him to advanced medical care as soon as possible, thereby bettering his chances of a successful recovery, which is what we're hoping for now," she said.
Rawski had set out to climb Denali via the West Buttress route on May 10 with one partner, Gualtieri said. The West Buttress route is the most commonly pursued route for mountaineers. Rawski wasn't with his initial partner when he fell, but Gualtieri said people often meet others while climbing.
It did not appear that Rawski had climbed in Alaska before, Gualtieri said, but he had experience climbing mountains in the Lower 48 including Mount Rainier and Mount Baker.
Two other climbers died in Denali National Park earlier this month. A 28-year-old ski mountaineer from Colorado died May 3 when he fell into a glacier crevasse on a spur of Eldridge Glacier, and a 32-year-old climber from Idaho died May 13 when a hanging serac fell from a peak along the West Fork of the Ruth Glacier.
___
(c)2021 the Alaska Dispatch News (Anchorage, Alaska)
McClatchy-Tribune News Service