Indiana expands suicide, crisis services to include mobile crisis teams
The Indiana Family and Social Services Administration announced it will be providing onsite services throughout the state
---
By Erik Hackman
The Evening News and the Tribune
INDIANAPOLIS — The Indiana Family and Social Services Administration hosted a news conference Tuesday to raise awareness and to provide an update on the 988 Suicide & Crisis Lifeline.
Indiana 988 is a call center for those who are in a suicide or mental health crisis and need immediate help. It directly connects the caller with a specialist who is trained in suicide and crisis prevention.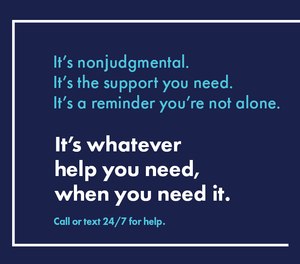 The lifeline is a free, confidential resource that is available 24/7 for anyone who is experiencing a mental health crisis. People can call the number if they are worried about a loved one who may need crisis support as well.
At the conference, officials announced that they have started the process of being able to provide onsite services throughout the state for those who need a response team for help.
"988 is a way forward," said Kara Biro, State Director of Behavioral Health Crisis Care, FSSA's Division of Mental Health and Addiction. "This system is the first part of an entire crisis continuum that our state is building. It ensures individuals have access 24/7 to a free suicide and crisis lifeline where they can talk to trained crisis specialists to support them in whatever way they need."
When 988 was being developed, it was referred as IN11. People thought that it would be another number such as 911 or 411.
Later, they started to consider 988. This change pleasantly surprised advocates because it put the resource at the same level as 911.
"When you think about 911, you don't just think about the call center, you think about the ambulances, EMS, Emergency Rooms, law enforcement, public safety and fire, the whole ecosystem that functions with 911," said Jay Chaudhary, Director of FSSA's Division of Mental Health and Addiction. "That's what we're trying to do with 988 here."
To help reach that level of 911, they are working on providing mobile crisis teams. They are mental health-focused teams that respond to crises in the community they are in, they go out to the people who are having the crisis.
There are five call centers in Indiana that partner with 988. They are answering an average of 3,200 to 3,800 calls per month from Hoosiers who are experiencing crisis. The average speed of answered calls is 9-10 seconds and the average call lasts from 12-20 minutes.
Crisis specialists provide a listening and empathetic ear to the individuals who are experiencing crisis. They also connect them to helpful resources near them to get them the help they need.
"We're not defining what that crisis is," Biro said. "It is not up to me to define when you're in a crisis. What a crisis is to me is very different than it is to someone else.
(c)2023 The Evening News and The Tribune (Jeffersonville, Ind.)
Visit The Evening News and The Tribune (Jeffersonville, Ind.) at newsandtribune.com
Distributed by Tribune Content Agency, LLC.
McClatchy-Tribune News Service