Utah man charged in ambulance theft after allegedly firing Taser at officers
A police officer who responded to a domestic violence call said they recognized the man from video of the ambulance theft
---
By Laura French
OGDEN, Utah — A Utah man was charged with allegedly stealing an ambulance last week after a police officer recognized him following an unrelated domestic violence call. 
Police say that when officers responded to the home of Mitchell Bryce May, 29, on Monday, he was wearing the same distinctive shirt as a man caught on video near the Ogden Fire Department ambulance before it was stolen from a senior living facility on Jan. 3, according to the Standard-Examiner.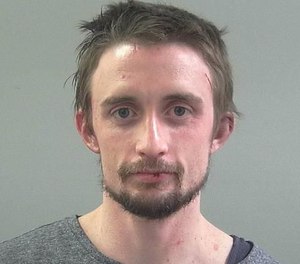 Ogden police had been called to the home by May's father, who reported that his son was being violent. Officers wrote in an arrest affidavit that May appeared disoriented, was fidgeting, and had dilated pupils, and that a bag of a substance suspected to be methamphetamine could be seen in his pocket. 
When officers went to arrest May, he reportedly resisted and kicked an officer while being restrained on the ground. After May was hit in the thigh with a Taser, police say he took the Taser away from the officer and tried to fire it at them. None of the officers were hit when the Taser was fired, officials said. 
While May was being booked on charges including assault on a peace officer and possession of a controlled substance, one officer noticed that May was wearing the distinctive shirt seen in the video from the ambulance theft case. May also reportedly matched the description of the suspected ambulance thief. 
When questioned, May reportedly told police the name of the neighborhood where he had left the ambulance, which was the same neighborhood the rig had been recovered from shortly after the theft, police say. 
In addition to the assault and drug charges, May is also charged with second-degree felony vehicle theft, interfering with a public servant, interfering with a police officer and third-degree felony disarming a peace officer carrying an energy device. He is being held without bail.