Man who stole Calif. ambulance said devil 'made' him do it
Gilberto Martinez, 26, was arrested for stealing an ambulance that was at the scene of a medical emergency
---
By EMS1 Staff
FRESNO, Calif. — The Fresno Police Department arrested a 26-year-old man for stealing an ambulance that was at a medical emergency scene.
According to Fox 26 News, the ambulance crew responded to a medical emergency at a home. When they arrived, paramedics activated a secure parking mechanism and entered the home. That is when Gilberto Martinez knocked on the house asking to use the phone. When he was denied access to the phone, he got into the ambulance and drove off.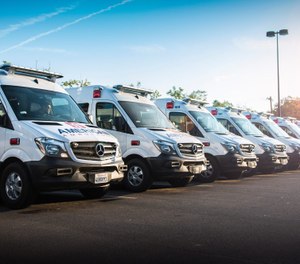 A Fresno police officer was in the area when Martinez took the ambulance and followed him until backup arrived. Police officers stated that Martinez followed all directions given to him.
He pulled to the side of the road and arrested for stealing an emergency vehicle.
Martinez told police officers that the "devil made" him do it when he was arrested by police officers. He also said he was trying to get back to see his wife and child in a different city.