Overtime has 'exploded' at understaffed Md. 911 center
"We don't have an option of operating below a certain level ... we must fill the seat. Our overtime has exploded," Scott Campbell, director of public safety, said
---
By Mary Grace Keller
Carroll County Times
CARROLL COUNTY, Md. — County staff say overtime has "exploded" at the Carroll County Emergency Communications Center and more people are needed to take 911 calls.
One county commissioner at Thursday's board meeting pushed for the county to hire more staff immediately, but the rest of the board would rather wait to see what funding becomes available.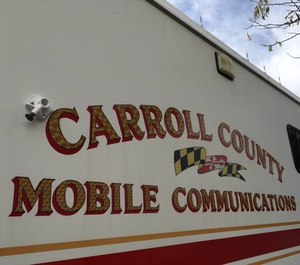 At full operating capacity, the emergency communications center has 32 staff members, according to Scott Campbell, director of public safety. Four of them serve as shift supervisors, while the remaining staff take 911 calls and dispatch emergency operations personnel, according to Campbell.
Jack Brown, emergency communications coordinator, told the commissioners Thursday morning there are three positions open and they want to add four more.
Commissioner Stephen Wantz, R-District 1, said he requested the matter be put on the agenda to be "proactive" because it takes months to hire and train a person.
"I brought it forward because I know that there's a need," he said. "My intent here was to try to get ahead of that curve and start the process so that we can get people in place when we do realize the revenue."
Campbell said it takes about six to nine months to train a new hire, and if a seat's open, the county must pay staff overtime to fill the shift.
"We don't have an option of operating below a certain level," Campbell said. "We absolutely must fill the seat. Our overtime has exploded."
Commissioner Dennis Frazier, R-District 3, suggested filling the three vacancies would solve the overtime problem. Campbell said it's not that simple.
"We have this kind of vacancy continuously," he said.
Brown added that turnover is a problem across the industry. The communications center averages 370 calls a day, according to Brown.
Commissioner Ed Rothstein, R-District 5, said the center should fill vacancies first.
"I think that the focus needs to be on filling the positions that we have valid on the books right now," he said.
The conversation turned to funding and how much money the county expects to receive from the state for emergency communications this quarter.
Under Maryland law, phone bills include a 911 fee that goes toward the state and local 911 call centers, Campbell said in an interview. In April, the state passed a bill that allows the fee to be charged per phone line instead of per phone bill, meaning Carroll County will likely receive more money this quarter.
The change became effective July 1, and the revenue expected to come to Carroll in late December is for July, August, and September, according to Campbell.
The new law also raised the fee from $1 per month to $1.25, according to Campbell. The state previously took 25 cents from that $1 fee and put it toward a state 911 trust fund, to which local agencies can apply for funding, Campbell said. The remaining 75 cents on the dollar went to the local fee, he said.
Under the new law, the state receives 50 cents and the local fee remains 75 cents, according to Campbell. Although the county fee did not increase, Campbell expects there will be more revenue because individual phone lines are now charged, he said.
"We know it's going up, we don't know how much," Campbell said in an interview.
During the board meeting, Commissioner Eric Bouchat, R-District 4, offered a compromise of adding two positions, but Frazier batted it down, saying the money had to come first.
Frazier suggested Campbell and Brown return to the commissioners after they know how much additional revenue will come from 911 fees. The other commissioners agreed, though Wantz said he "reluctantly" agreed.
Campbell said in an interview that staff have left their positions at the communications center for a number of reasons, such as retirement and new job opportunities. And although call volume has increased, Campbell said, the real issue is having enough staff because it takes so long to train a person when someone else quits.
"It's not like we can fill a position in a very short amount of time," Campbell said.
Campbell said they asked for four additional positions because there are four shifts.
He anticipates the burden on staff will only be greater as the communications center transitions to Next Generation 911, a system that will improve call locating capabilities and dispatching but will also require staff to perform more tasks at once, Campbell said. As a result, even if calls do not increase, the workload will, according to Campbell.
There is no degradation to the 911 call service currently, Campbell said, but he said the staff can only handle so much overtime.
"We're trying to be proactive," Campbell said. "We want to replace the rubber band before it breaks."
He said he will be back in front of the commissioners to request additional staff once the revenue numbers come in from the state.
Those interested in applying to work at the emergency communications center can apply on county website by clicking on the career opportunities icon and then clicking "emergency communications specialist." The position is full-time and pays $18.39 per hour. Applications are due Dec. 2.
———
©2019 the Carroll County Times (Westminster, Md.)
McClatchy-Tribune News Service