Mich. EMS considers options after abrupt license suspension
Fife Lake EMS officials are considering a deal to have a local hospital take over ambulance services after they were unexpectedly told they were too short-staffed to operate
---
Brooke Kansier
The Record-Eagle, Traverse City, Mich.
FIFE LAKE, Mich. — Fife Lake EMS workers clicked off the lights, pulled down the garage doors and locked up as the sun rose Monday.
And it's a shutdown that may be permanent.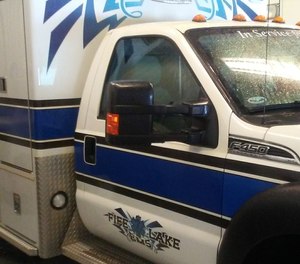 An unexpected phone call Friday from the Northwest Regional Medical Control Authority informed Fife Lake EMS Fire Board Chair Debbie Robinson that the station's license was to be suspended — the small department, which covers Fife Lake and Springfield townships, was too short on staff to provide 24/7 services.
Nearby mutual aid departments — Blair Township, Paradise Township and Kalkaska County EMS — will fill the gap.
For now.
Fife Lake Township left the now-defunct Grand Traverse Rural Fire Authority in 2017, the Record-Eagle previously reported — township officials felt membership was too expensive and volunteer firefighters could provide better service.
But they've recently struggled to attract qualified applicants to staff EMS rigs, Robinson said.
Appealing the suspension is a significant undertaking — it requires a formal appeal to the state, which will be followed by a meeting of medical control personnel and state-level actors and an investigation by state officials, according to a letter from Control Authority Medical Director Robert Smith.
EMS could also provide a schedule to the state demonstrating continuous coverage for the next 90 days, Robinson said.
But there's hope for a permanent solution — for the past nine months, township staff have been meeting with and discussing the possibility of having Kalkaska Memorial Health Center take over those services.
Fife Lake Township Supervisor Linda Forwerck said the deal is more a "when" than an "if."
She said Wednesday that Kalkaska Memorial were the ones who initially broached the subject, and Springfield and Fife Lake's boards will be reviewing a contract draft at a Monday meeting between all three parties. Springfield and Fife Lake township officials have worked closely throughout the process.
"This is a culmination of time and meetings, and we're at the point both boards have unanimously approved a merger," Forwerck said. "It looks like this is going to go forward — and because of our current situation, we would like to see that happen as fast as we can make it happen."
From there, the focus will turn to reviewing contract stipulations carefully before anything's signed, she added.
The proposal would have Kalkaska Memorial assume ambulance services for both Fife Lake and Springfield townships, according to Robinson.
It would also have the hospital lease Fife Lake's ambulance for an annual cost of $1, would hire and staff a crew to operate out of the Fife Lake Fire Station, and most importantly to those in emergency services, provide advanced life support, or ALS, services to local patients, the Record-Eagle previously reported.
Under Fife Lake EMS, any calls requiring ALS meant a call to another nearby EMS team equipped with it, which came at a cost, according to Robinson.
With it, patient transportation will be streamlined and done more quickly, she added.
"I'm very excited about it," Robinson said. "With this aging community, I believe in my heart that if we could stop our intercept needs and provide ALS to our residents from the get-go, it would save a lot of time … and could save their lives."
Those changes wouldn't increase township costs, either. Kalkaska would be paid about $100,000 per year — about 80 percent of Fife Lake's $125,000 annual ambulance millage.
A joint meeting between Fife Lake and Springfield township boards saw a unanimous vote to approve such a merger on Aug. 6. Now, focus turns to details.
Still, the way things have gone discourages Robinson.
"Personally, as chairperson, I did not want to see this happen at this point in time," she said. "I wanted to see a smooth transition to the merge with Kalkaska Memorial.
"This was not planned."
The next meeting between those parties comes Aug. 31, and Township Treasurer Carol Sorrow said she expects more discussion to come at the township's Zoom-based board meeting Thursday evening.
The concept has proven divisive at past public meetings — during discussions at late July and early August virtual gatherings, Kalkaska Memorial officials fielded questions for an hour and a half, the Record-Eagle previously reported.
The suspension, however, may force township hands.
Contract discussions aren't finalized, Kalkaska Memorial Health Center CEO and Administrator Kevin Rogols said in a written statement.
"While there is interest between all involved parties, our discussions are preliminary and no decisions have been made," Rogols wrote. "We are currently performing due diligence on the opportunity."
Robinson couldn't provide a definite timeline as far as the contract's finalization.
See details on how to watch Thursday's meeting via Zoom at www.fifelaketwp.com.
———
©2020 The Record-Eagle (Traverse City, Mich.)
McClatchy-Tribune News Service