FDIC 2023 Quick Take: Sports injuries on and off the field
Karen Owens shares insider tips for training to treat pediatric athletic injuries, some of which may surprise you
---
INDIANAPOLIS — As social distancing guidelines have relaxed and schools are back to in-person learning and extracurricular activities, youth sports participation continues to increase.
In a session at FDIC 2023, Karen Owens, emergency operations division director for the Virginia Office of EMS, reviewed sports safety equipment and appropriate treatment for pediatric patients.
Owens is a Virginia-certified EMT-B (instructor) and FF I and II. She holds a BA in psychology, master's degree in public safety leadership and is pursuing her doctorate in business administration.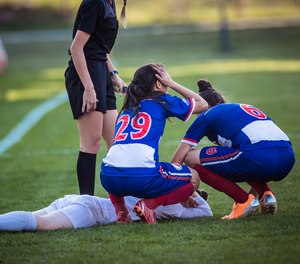 Memorable quotes on sports injuries
Following are quotes from Owens on pediatric trauma.
"These kids want to get back out there. They'll fake it until they make it."
"Safety may not be an assumption at youth sports."
"If we delay assessment, we delay treatment."
Top considerations on responding to pediatric sports injuries
Owens reviewed common pediatric sports injuries, how to assess and treat them and potential complications. Following are takeaways from her presentation.
1. Scene safety
The initial assessment considerations for a pediatric sports injury are no different than any other EMS call, Owens explained – scene safe, BSI, level of consciousness, load and go versus stay and play, ABCs. Sports padding, equipment and helmets present the biggest questions: Does removing equipment delay assessment? Does keeping it on impact assessment?
However, don't forget to consider scene safety, which may not be an assumption at youth sports. "There are a lot of youth sports where the scene is not going to be safe if that injury was incurred intentionally," Owens noted. Ask your athletic director about team rivalries, and teams who play rough, where athletes couple be stomped on or otherwise intentionally injured.
2. Investigate MOI
One piece of assessing a sports injury is to determine what happened before you arrived, unless you are on standby. Was the patient moved? Was some type of intervention performed? The ubiquitous cell phone can come in handy when determining mechanism of injury (MOI). Owens noted, if there's a game, match or performance in progress, there are likely several people filming in the audience.
If you have the time, watch one of the videos. We're not changing the call, Owens said, but just like we take the helmet to the ER, take the sports equipment with you and watch that video to provide the ED staff with any information you can about the MOI.
3. When to remove sports equipment
The first thing coaches and family members want to do when a player is injured is take their helmet off, Owens reported. If the player has a spinal injury, "now we've got bigger issues, bigger questions."
Owens noted the considerations for when to remove a helmet in sports are the same considerations evaluated for a motorcycle injury.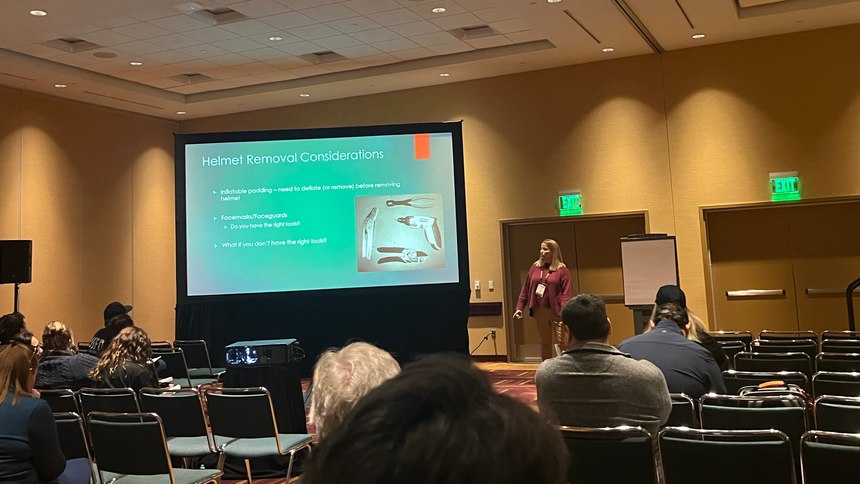 Keep the helmet on when:
It fits snugly, allowing little or no movement, and
There are absolutely no airway and breathing issues
Removal would cause further injury
Proper spinal immobilization can be done with the helmet in place
It does not interfere with your ability to assess airway/breathing
Remove the helmet when:
It interferes with your ability to assess and manage the airway
It is improperly fitted
It interferes with immobilization
The patient is in cardiac arrest
If the helmet does need to come off, remove the pads as well, Owens advised. A helmet without pads will push the chin to the chest, while pads without a helmet will push the head back without the proper padding.
4. Practice and prepare
Being prepared to respond to a pediatric sports injury means knowing what to expect, having the right equipment and knowing how to use it. Owens advised attendees to familiarize themselves with the sports offered in their response area – and the schedule, and to consider the tools they have on their rig to remove equipment.
"Helmets are no longer a quick Phillips head screwdriver to remove," Owens pointed out. New innovations mean helmets may have inflatable padding that needs to be deflated, and may require specialty tools to remove.
Train on the equipment, Owens advised. Helmets expire. Go you your school and ask them to donate expired equipment. Go to Dick's Sporting Goods and ask them to show your team how the tools work to remove equipment. Go to Walmart and buy a $4 mouthguard and see how thick it is. Put it in your simulation mannikin and see how far back it can go and how to remove it. "If you don't practice with the equipment, how do you know it works?"
If you live in the community you serve, you may know the children and the families presenting as your patients; you may have played for that school, Owens noted. That increased worry takes a toll. The best way to mentally prepare is to practice.
Additional resources