Conn. town FFs, EMS providers, dispatchers come together to form ice hockey team
The team of first responders joined the Connecticut Hockey League and made it through the semi-final playoff round this season
---
Jeff Mill
The Middletown Press, Conn.
CROMWELL, Conn. — They've proved themselves in fires. Now, a group of Cromwell firefighters are showing what they can do on ice.
A hockey team made up of both career and volunteer firefighters as well as dispatchers, and their respective family members and friends, has carved an improbable path to success.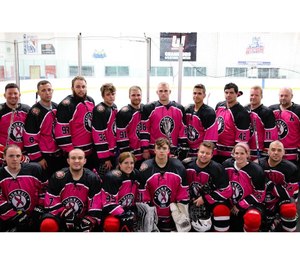 The idea came about "last winter when a few of the firefighters had an impromptu game of street hockey in Rocky Hill," Lt. Brett Hallden explained.
Could they switch to playing ice hockey?
Hallden, who had been introduced to the game by his father, thought they could.
"We took a group to a few public skating events to see what they could do," Hallden said. "Believe it or not, five of them didn't even know how to skate."
Undeterred, the team joined the Connecticut Hockey League for the league's summer season.
They posted a 2-10 record.
"Some people would have said it was a year of failure, having lost ten games, but I saw it as nothing less than a huge success," Hallden said in an email.
"With each passing week, the team members' skills improved and, more importantly, their ability to work together under pressure was solidified," he said.
"One would think that working together at emergency scenes would have yielded a good foundation of teamwork, and it did, but this was different: it was something new for most of the team, something they could each learn from and grow together, without judgment," Hallden said.
Fast forward to this month.
"Through hundreds of hours of practice and public skating, we have gotten to where we are today — although it wasn't as easy as our current record may indicate," he said.
"We finished the regular season tied for first place and have now made it through the semi-final playoff round. We will (be) playing for the inaugural CHL Tier 7 Championship next Sunday, the 5th, at Champions at 8:30," Hallden said in his most recent email.
How did they manage to accomplish that?
"This fall season, our roster has twenty-one individuals, all working towards one goal," Hallden wrote.
The team's efforts have not gone unnoticed.
"On any given week, a look in the stands at our games will show you the community support we have, which is beyond anything ever before seen in the area adult hockey league," Hallden said. "To have 100+ family and friends come out to support a recreational hockey team is special, to have it every week just shows the love and support our community has for their fire department."
Hallden had grown up loving the game, both watching the Hartford Whalers and skating in a youth hockey team. But when he turned 20, he hung up his skates.
When his son came along, Hallden began taking him to Wolfpack games just has his father had taken Brett to Whalers' games.
"Spending so much time watching games with him, both in person and on TV, made me long to get back on the ice," Hallden said.
"Each team member pays for their own jerseys, league fees, and equipment. These expenses can be significant but there has been no better way to exercise and build teamwork that I have been able to find," Hallden said.
The team's success has earned them plaudits, including one from Julius C. Neto, the fire district's executive director.
"This team exemplifies the core values of the Cromwell Fire department: Teamwork, Respect, Trust And Pride," Neto said in an email Monday.
"The make-up of this team consists of full time and part time firefighters/EMT and volunteers EMS and firefighters. It is great to see all of our folks working and playing as a team on and off the ice," Neto added.
Their efforts extend to actions off the ice as well, Hallden said.
"This year we teamed up with Middlesex Health for their goPink Cancer initiative," he said.
During an early October party at Baci Grill, the team held a raffle with prizes including pink jerseys the team had worn in support of Breast Cancer Awareness.
The team also held a "Dining for A Cause" event at the 99 Restaurant in Cromwell in late October.
For customers who produced a copy of a flyer announcing the event, the 99 restaurant donated a portion of each diner's bill to the Middlesex Health Cancer Center.
Hallden acknowledges the department has come in for "a lot of negative attention over the last few months, most notably on social media."
"The vast majority of what's out there is not true or is otherwise twisted to create dramatic impact," he said. "Are we perfect? Of course not. But we continue to provide the absolute best service and care we can, day in and day out."
Differences remain, even among the team
But, Hallden said, "We are all bound together for the love of the game, and the love of our community."
———
©2019 The Middletown Press, Conn.
McClatchy-Tribune News Service