New protocols recommend Mich. EMS providers carry emergency contraception
Gov. Gretchen Whitmer announced the plan, which also includes training for EMS providers on helping sexual assault survivors
---
By Leila Merrill
EMS1 Staff
LANSING, Mich. — Gov. Gretchen Whitmer announced Wednesday that Michigan EMS providers will have the opportunity to carry emergency contraception and post-exposure prophylaxis for sexually transmitted infections, WPBN/WGTU reported. The plan also includes training for EMS providers on helping sexual assault survivors.
The new protocols were established because there is a chance that the state's 1931 law banning abortion could go into effect. Whitmer, a Democrat, is running for re-election against former political commentator Tudor Dixon, a Republican.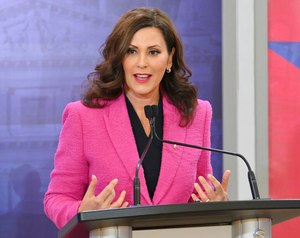 "Today, Michigan is setting a national example by providing first responders the opportunity to carry emergency contraception so they can get survivors of sexual assault the care they need," Whitmer said in a news release. "With the threat of a 1931 law banning abortion even in cases of rape or incest taking effect in Michigan, sexual assault survivors deserve our support and resources more than ever. I am proud of today's changes to make Michigan a leader in sexual assault response by ensuring that EMS responders can deliver emergency contraception and appropriate medical care. Let's keep working together to protect Michiganders and ensure they can get the care they need."
The Quality Assurance Task Force voted unanimously to approve new Medical Control Authority protocols proposed by the Whitmer administration.
The Michigan Department of Health and Human Services adopted the new protocols, too.
The first protocol requires more specific treatment when responding to reports of sexual assault. This includes handling of evidence and appropriate demeanor.
The second protocol recommends that community-integrated paramedicine programs carry emergency contraception kits and sexually transmitted infection treatments.
"These critical new protocols will help ensure that survivors have access to crucial reproductive care treatment and appropriate medical care as soon as possible," said Elizabeth Hertel, MDHHS director. "EMS serves a valuable role in the health care system, not only in acute and time-sensitive emergencies, but as advocates for those with less access to traditional health care options."