15 members of Wyo. FD to get 15% raises
Jackson Hole Fire/EMS Chief Brady Hansen said that a county error would have put firefighter, EMT and paramedic salaries "very much on the low end"
---
By Leila Merrill
JACKSON, Wyo. — Fifteen firefighters, EMTs and paramedics with Jackson Hole Fire/EMS will get 15% pay raises, the Jackson Hole News & Guide reported Tuesday.
Jackson Hole Fire/EMS Chief Brady Hansen said he knew something was not right when he saw the results of a biannual market check used to adjust county employee salaries. He said the problem boiled down to a missed step.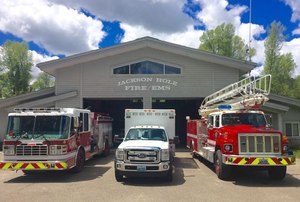 "We would have been very much on the low end," he said, "and we knew that wasn't intended."
The good news about raises came after three months of research and advocacy by department personnel, their families and the IAFF local 5067.
The 15% raise is for those who are not captains and is retroactive to Jan. 2, when most of the county raises went into effect.