Rapid Response: EMT student shot, run over for caring
Here's what we can learn from teenager and EMR Daniel Wesley, who was critically injured coming to the aid of a murder victim
---
What happened: Emergency Medical Responder and EMT student Daniel Wesley, 17, is recovering from two gunshot wounds, a broken arm and a broken leg after he was attacked Sunday evening caring for a woman who had been shot and tossed in a road.
Wesley came to the aid of April Peck, 30. While donning gloves and preparing to apply pressure to Peck's wounds, the shooter returned to the scene. Terrell Walker, 48, drove Peck's car directly at Wesley, other bystanders and an ambulance crew. Wesley was struck and thrown against the ambulance, the impact breaking his arm. Walker got out of the vehicle, shot Wesley twice and ran him over a second time as he fled the scene. Walker, the gunman, was killed later Sunday night in a shootout with East Baton Rouge sheriff's deputies.
Kathy Wesley, Daniel's mother, reported that Wesley had surgery Sunday night and Tuesday. "He's a tough kid. He's silly and has a sense of humor you wouldn't believe," she said. "He's cracking jokes and trying his best to keep the pain in. He's been surrounded by friends and family all afternoon."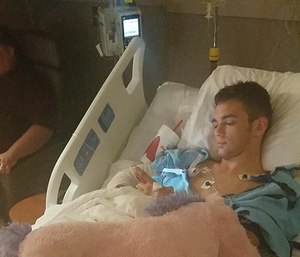 Why it's significant: Daniel Wesley is a caregiver. As a teenager, the son of an EMT is already a certified Emergency Medical Responder, capable of recognizing a person in need and providing care. Wesley is one of us. He is our brother who like the Good Samaritan saw a person injured in the road and gave care, but Wesley was attacked for taking action and doing the right thing.
Top takeaways: Since Wesley is one of us, a young man called to care, we all can learn from his experience.
1. Combined risks are exponentially more dangerous.
A routine roadway incident, if there is such a thing, is a hazardous hot zone for EMS providers and public safety personnel. Fire apparatus blocking scenes are regularly struck accidentally or intentionally, police officers are injured or killed and medical helicopters waiting for a patient to be loaded have been hit by drunk drivers twice in 2016.
Domestic violence incidents can be just as dangerous for EMS providers and law enforcement. If the assailant has fled the scene before EMS arrival, there is a constant worry that the assailant still enraged, armed and hopeless will return at any moment.
Wesley and other emergency responders were confronted by the combined danger of initiating care in the roadway as the assailant returned to the scene to attack Wesley and other caregivers. The combined risks were not twice as dangerous. This incident was 20 or 200 times more dangerous for everyone.
2. Anything is a weapon.
It's OK to know this and be reminded it is true. Anything is a weapon when it is wielded with malice and intent to main, injure or kill.
Sunday night, Wesley was attacked with a vehicle before being shot. Monday morning, an Ohio State University student drove onto a crowded sidewalk before attacking people with a knife. Body armor is partial defense for one type of weapon. Other shielding, along with distance, cover and concealment are partial defense for any type of weapon.
3. Targeted for caring.
Caregivers have been and will continue to be a target of violence for the simple act of caring. This year started with the fatal shooting of an Arkansas volunteer firefighter who responded to a medical call. In April, a Maryland firefighter-paramedic was fatally wounded and a volunteer firefighter was seriously wounded after being shot by a man they had been called to perform a welfare check. Throughout the year, paramedics, EMTs and other caregivers are violently attacked, assaulted and verbally abused by patients and bystanders. The risk of violence is unrelenting and unpredictable.
Your prayers, thoughts and even financial support for Wesley are important and appreciated. Reflecting on this incident, discussing it with your partner and squad and learning from it are also critical.
What are your top takeaways from this incident as an EMS provider, educator and advocate?