2021 ESO Trauma Index shows key trends in U.S. hospital trauma departments
Data on hemorrhages, traumatic brain injuries, fractures may be used as a nationwide benchmark for trauma systems
---
By Leila Merrill
AUSTIN — Data/software company ESO, which serves EMS providers, hospitals, fire departments and government agencies, on Wednesday released an index showing key trends in U.S. hospital trauma departments.
This is the first time ESO has released data like this, and all of it was collected in the 2020 calendar year. The dataset for the ESO EMS Index is from the ESO Data Collaborative. These data are based on 802,940 anonymized records.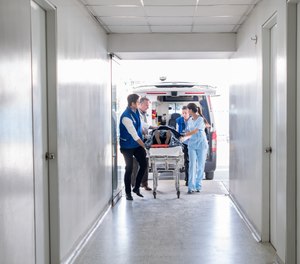 The 2021 ESO Trauma Index, which is based on data from nearly 600 hospitals, showed that about 75% of patients with traumatic brain injuries had a documented CT scan, and 99% got the scan within the first 24 hours.
Another key finding is that less than 1% of trauma patients received whole blood, but packed red blood cells transfusions were more common for those with hemorrhages. Almost 45% of either treatment was provided within the four hours of arrival.
Hospital events occurred nearly 8% of the time. The most common ones are unplanned intensive care unit admission, unplanned intubation and cardiac arrest with cardiopulmonary resuscitation.
Of the patients who presented with open long-bone fractures, 63% received antibiotics within 60 minutes. And 95% of geriatric patients requiring surgery for a hip fracture were moved from the Emergency Department to surgery in 24 hours or less.
"Traumatic injuries are a significant cause of death and disability in the United States," said Garrett Hall, Director of Hospital and Registry Programs for ESO. "With the information from the ESO Data Collaborative, we are able to provide a nationwide benchmark for trauma programs around the country to evaluate performance around key metrics and measures that will improve patient care and safety."