'I heard the horn': Off-duty FF-medic saves Ohio driver from oncoming train
Pat Paisley was driving home in a snowstorm when he saw a car stuck on a double railroad crossing
---
By Leila Merrill
KENT, Ohio — An off-duty firefighter-paramedic saved a stranded driver from an oncoming train on snow-covered tracks on Jan. 17, Fox 8 Cleveland reported.
Firefighter-paramedic Pat Paisley had been driving home around 8:30 a.m. in a snowstorm when he saw the car stuck on a double railroad crossing.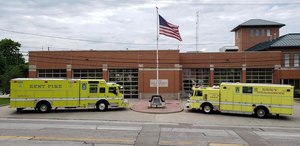 "There was so much snow on the tracks," Paisley said.
He called dispatch to ask that the train be stopped, but it was too late for that.
"I heard the horn," he said.
As the train was coming, Paisley helped the driver, an Akron woman, out of her car.
The train caused a lot of damage to the car.
"He made a difference. He made a big difference for her," Kent Fire Chief William Myers said. "He saved her life. So, we're very proud of Patrick."