Couple rescued after getting lost on marriage proposal hike
Officials said Joshua Mason and Katie Davis had to be rescued after getting lost on a hike that ended in a marriage proposal
---
By Amy Bounds
Daily Camera
BOULDER COUNTY, Colo. — A couple from Texas were rescued early this morning after getting lost after a hike that ended with a marriage proposal, according to the Boulder County Sheriff's Office.
Joshua Mason, 27, and his girlfriend, Katie Davis, 28, flew Friday to Denver from Denton, Texas. On Saturday, Mason took Davis on a hike from the Fourth of July Trailhead northwest of Nederland to Jasper Peak on the Continental Divide.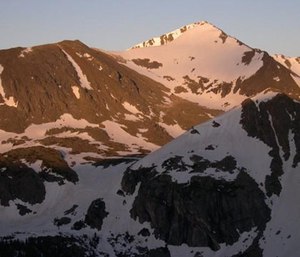 An 8.2 mile hike with an elevation gain of more than 3,000 feet to the nearly 13,000 foot summit, Mason was hoping to find an isolated scenic location "away from any other people" to propose to Davis, according to the sheriff's office.
Mason found the spot he was looking for, and Davis accepted his surprise proposal, according to the sheriff's office.
But the couple got a late start, not leaving the trailhead until around noon. They also were carrying little water and weren't equipped for cold weather or to camp overnight. With no readily identifiable trail to Jasper Peak, they became disoriented and got lost after dark, according to the sheriff's office.
They were found by a lone hiker, who led them to a group of his friends camping at Diamond Lake. They were showing signs of altitude sickness and severe dehydration, and the campers provided them with water, food and shelter in a tent, according to the sheriff's office.
Because of the couple's condition, one of the campers hiked down from Diamond Lake to her vehicle at the trailhead, drove to Nederland for cell service and called 911 at about 2 a.m. Sunday.
Boulder County Sheriff's deputies, the Nederland Fire Protection District and the Rocky Mountain Rescue Group responded.
A Nederland Fire paramedic located the campers at Diamond Lake at about 4:30 a.m. He determined that the couple needed to move to a lower altitude immediately, and they were both able to walk down to the trailhead assisted by rescuers with the Rocky Mountain Rescue Group.
They arrived at the trailhead and their rental car at about 6:30 a.m. and didn't require further medical treatment — but told deputies that the engagement was still on.
Copyright 2018 Daily Camera