Las Vegas ambulance service to offer $10K signing bonuses
Community Ambulance is offering a hefty signing bonus to attract providers until they reach adequate staffing levels
---
By Rachel Engel
LAS VEGAS — A private ambulance service is offering signing bonuses to attract providers.  
Community Ambulance is offering up to $10,000 to attract providers for the positions of EMT, AEMT and paramedic.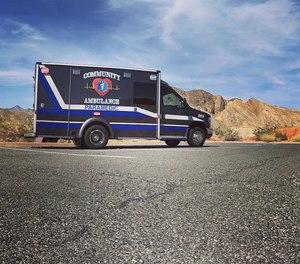 "We are looking for employees that "have heart," a statement on the Community Ambulance website reads. "In our line of work, we need employees who are dedicated to the EMS profession and are willing to work hard and be proud to be part of the Community Ambulance family. We pride ourselves on our focus and dedication to getting the job done right for our patients and customers."
The amount of the incentive is dependent on experience.
Year-after-year, the EMS Trend Report respondents say their top priorities are giving back to their community, making a difference and taking care of patients.
"Paramedics might apply to an agency because of a high signing bonus," Greg Friese, EMS1 Editorial Director, said. "But if an employer wants those paramedics to stay for the long term, the agency must have a culture which gives people opportunities to make a true difference in patient wellbeing, that promotes career growth, and looks out for paramedics' physical and mental well-being."
The one-day hiring takes place at 9 a.m. on Saturday, Sept. 8, at the Community Ambulance headquarter at 91 Corporate Park Dr., #120.