EMS agency launches paid training program for EMTs
Susquehanna Valley EMS is tackling its EMT shortage by offering an "EMT Recruit Academy," which will pay students for classroom and clinical shifts
---
By EMS1 Staff
LANCASTER, Pa. — An EMS agency is taking on its EMT shortage by paying students to undergo a training program.
Lancaster Online reported that under Susquehanna Valley EMS's new "EMT Recruit Academy," students will be paid to attend eight-hour classroom and clinical shifts for six weeks.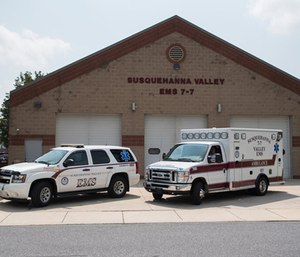 After completing the course, the students are eligible to become EMT-certified and will be offered a job at the agency if they commit to one year of work.
"It's a new concept … this is taking somebody off the street and paying them to get trained for the career," SVEMS CEO Michael Fitzgibbons said.
Students will be paid minimum wage during the classes, and their pay will be increased to $10-$13 an hour with opportunities to increase with certification levels once they get the job.
Fitzgibbons hopes to have 10 recruits sign up for the class.
"If they have some medical background, that's great. If not, it's something that we'll be training them to do," he said.
SVEMS is currently three short of being fully staffed, with 16 EMTs working full-time.